Come Home To
Tyrone Woods Manufactured Home Community
Located at 8378 Hogan Rd, Fenton, MI 48430
COME HOME to an AFFORDABLE community
We offer homes for sale and rent at affordable prices. We are a pet-friendly community for all ages. Come on out and see our homes for sale and lease. This way you can see for yourself what Tyrone Woods Manufactured Home Community truly has to offer!
COME HOME to a STRATEGICALLY located community
Located off US-23, we are approximately 30 minutes from Ann Arbor and Flint, and 60 minutes from Lansing and Detroit. There are all paved roads leading right to the community, which is located only minutes from Downtown Fenton, Michigan.

COME HOME to TYRONE TOWNSHIP
Tyrone Township, first settled in 1834, is located in the northeastern-most corner of Livingston County, Michigan.
Historically, a major Indian trail called the Shiawassee Trail crossed through Tyrone Township as a connection between Detroit and the Shiawassee County community of Shiawasseetown.
Today, the township is a picturesque rural community with rolling hills blended with lakes, golf courses and open spaces. The census population of Tyrone Township for 2010 was 10,020 citizens.
COME HOME to SHOPPING nearby
Whatever the mood, Fenton has the shopping experience for you!
Fenton has three distinctly different areas for shopping: Dibbleville, Silver Parkway and North LeRoy, and they all offer a little something for everyone.
The Historic Dibbleville's strolling-with-the-girls-for-fun shopping is located in the central downtown area and offers such shops as The Iron Grate, Fenton's Open Book, Elle, Rejuv Ave Skin Spa, Yesterday's Treasures, Gerych's Flowers and much more.
Silver Parkway offers Auto-Lab, Dunham's Sports, Mos' Art Jewelers and Walmart, just to name a few.
The North Leroy Shops are an eclectic mix of small family-owned businesses and national chain stores. Some locally recommended "don't miss" favorites are Fenton Home furnishings, the Quilter's Garden and the Fenton Winery & Brewery.
The bottom line is, whatever you may need, it is only minutes north of our mobile home community.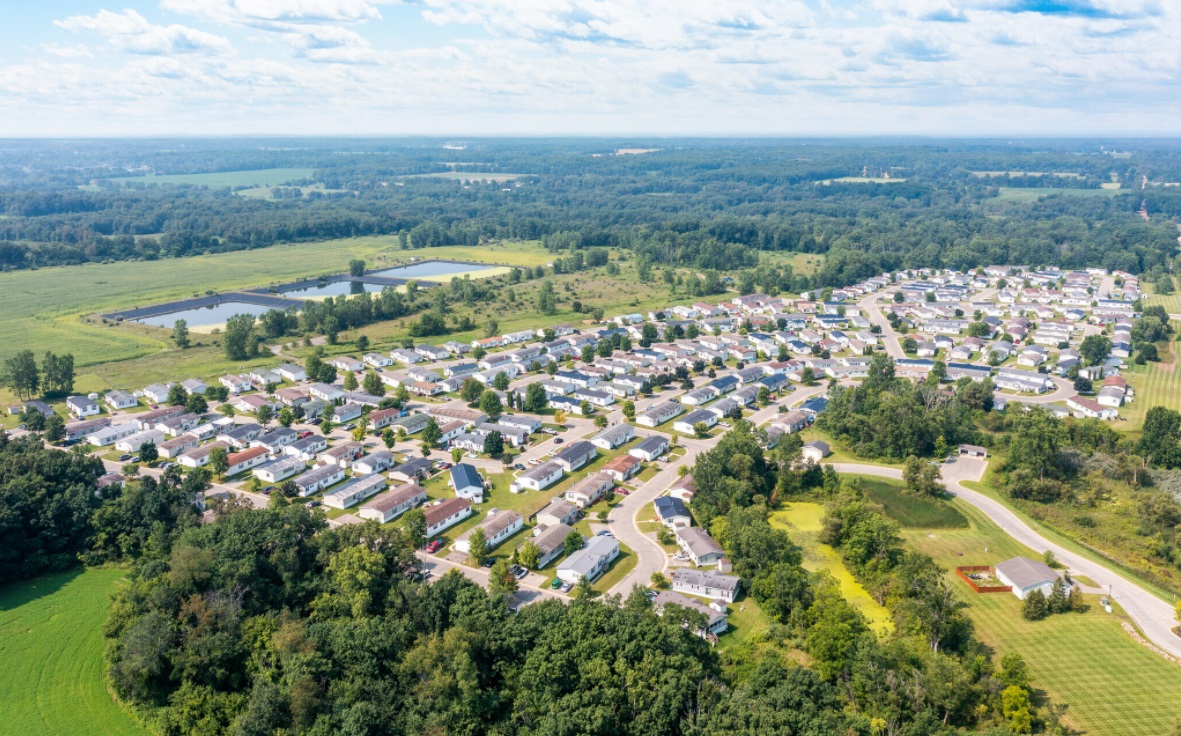 COME HOME to DINING nearby
From the fast-food chains to elegant sit-down dining, the Fenton/Hartland area has it all. From the historic Fenton Hotel in downtown Fenton, to Black Rock in Hartland, to The Rough Draught Coffee and Barroom in Fenton, any cuisine can be found close to home. Not to mention, our area has all the standard fast-food establishments and specialty chains as well.
COME HOME to ENTERTAINMENT nearby
Fenton offers a porifera of social activities:
●      Golf one of our many top-rated golf courses.
●      The Fenton Farmers Market is open June 21 to September 20 on Thursdays in front of the Fenton Community Center.
●      Free films are shown on the 2nd Wednesday of each month, at 7:00pm, in the Fenton Community & Cultural Center.
●      The Fenton Village Players invites you to experience the fun they have making the magic of theatre. Volunteer, audition, and support.
●      There is also a free summer concert series at the Millpond park, and all of this is just the tip of the iceberg.
COME HOME to EDUCATIONAL opportunities

Linden Community schools boast 57% student participation in sports, 96% of students are college bound, 12 AP courses and students can participate in dual enrollment and middle college opportunities. Buses pick up and drop-off students right at the front entrances of our community.

Come Home To
Tyrone Woods Manufactured Home Community!