Financing a mobile home can be challenging for anyone looking to be a homeowner. Since manufactured homes aren't considered as real estate assets, mortgages aren't as plentiful as standard home mortgages.
With that said, they are available from several sources, and government-backed loan programs can make it easier to qualify and keep costs low.
Even though the term "mobile homes" is still widely used, these single, double and triple-wide prefabricated homes are now referred to as manufactured homes.
An estimated 20 million Americans live in mobile homes, according to the Manufactured Housing Institute. Such statistics show you just how popular manufactured housing is in the United States.
How to Finance a Manufactured Home
Buying a mobile home requires a different approach; it's not the same as traditional homes. You need to do your due diligence if you are going to get your dream home.
Before you consider financing the mobile home, you need to decide whether a piece of land is part of your plan.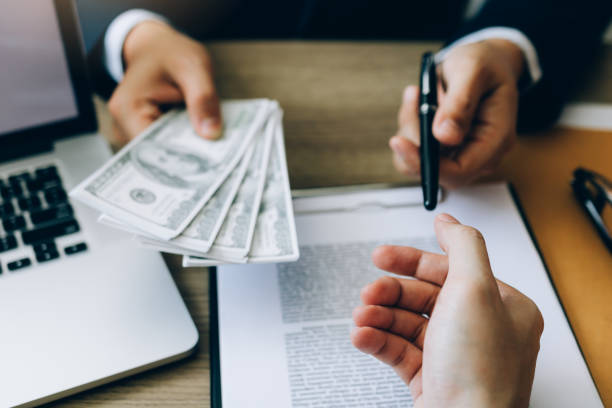 Buying land can help you widen your financial options. For example, a lender will be more willing to offer you a loan if they establish you have land.
As such, they are aware you are unlikely to move any time soon. Besides, if the house is attached to the land, your home will be considered a real estate asset.
Should I Buy a Manufactured Home?
The average national price of a new manufactured home is $81,700, while the average national cost of a new site-built home sold in February 2020 was $403,800, according to the U.S. Census Bureau.
However, the price of a mobile or manufactured home varies depending on whether it's a single-wide (about $54,000 for a new one), double-wide (about $104,000 new), or triple-wide ($150,000 and up).
Whether you're purchasing mobile or modular homes, deciding how you want to finance it should be a top priority.
Mobile homes are typically less expensive than site-built homes. However, even though it's cheaper, it's not entirely affordable upfront.
This article will help break down the steps of how you can finance your mobile home.
Government Loan Programs
As discussed earlier, government–backed mortgages can make borrowing for a mobile home not only easier to qualify, but more affordable.
With that said, not all manufactured homes qualify. Government-backed mortgages tend to have the lowest rates.
If you qualify for government-backed mortgages, you can borrow from mortgage lenders who get a repayment guarantee from the U.S. government.
If you don't repay the loan, the government will step in and pay the lender.
FHA Loans
FHA mortgages are offered through the Federal Housing Administration.
Often, such mortgages feature low down payments, fixed rates, and consumer-friendly rules.
For a home to qualify for FHA mortgages, it needs to meet specific criteria:
The home must be built after June 15, 1976
The home must be permanently fixed to a foundation that is built to FHA standards
The home must have a minimum size of 400 square feet to be financed
The lot must be designated or approved
Each home section must have the HUD Label (red Certification Label) attached
The home must meet the Model Manufactured Home Installation Standards
The home must be the borrower's primary residence
There are two types of FHA mortgages:
1.     FHA Title I Loans
2.     FHA Title II Loans
Title I Loans
Title I loans are personal property mortgages used for financing homes that will be placed on a rental site.
Title I mortgage can also be used for manufactured home and land financing.
Title I mortgage has loan term limits for borrowers, as outlined below:
Maximum Loan Amount:
●      Manufactured home only: $69,678
●      Manufactured home lot: $23,226
●      Manufactured home and lot: $92,904
Maximum Loan Term:
●      Manufactured home: 20 years
●      Single-wide manufactured home and lot: 20 years
●      Manufactured home lot: 15 years
●      Multi-unit manufactured home and lot: 25 years
Suppose you're planning to place the home on a rental site. Required down payments can be as low as 5%, but that requirement can vary from lender to lender, depending on your credit score.
Title II Loans
These are real estate loans used for financing a mobile home with land.
You can apply for it only if you are planning to purchase the land and home together.
These loans allow users to make a downpayment of as little as 3.5%. You'll pay an up-front mortgage insurance premium, however, as well as ongoing mortgage insurance with each monthly payment.
If you are looking to apply for FHA Title II loans, it's important to note that you'll need a decent credit score to qualify for an FHA loan, but your credit doesn't have to be perfect, and the loan term can be as long as 30 years.
Title II loans are real estate loans, so you'll have to purchase the land and the home together, and the home must be permanently installed on an approved foundation system.
Department of Veterans Affairs (VA) Loans
If you belong to the military community, you may qualify for a loan insured by the Department of Veterans Affairs.
VA loans are particularly appealing because they allow you to buy with no money down and no monthly mortgage insurance, assuming that the lender agrees and you meet credit and income requirements.
However, with no down payment, you're likely to have higher monthly payments, and you'll pay more in interest over the term.
Criteria for Qualifying for VA Mortgages
To get a VA loan, you need to meet the following requirements:
The home must be attached to a permanent foundation
You must buy the home together with the land it sits on, and you must title the home as real property
The home must be a primary residence, not a second home or an investment property
The home must meet the HUD Code (administered by the S. Department of Housing and Urban Development) and have the HUD Labels attached.
Chattel Loans
Chattel loans are often used for mobile homes going into a park or manufactured home community.
In other words, they can be used to buy homes only, unlike other mortgages for houses and land together.
This type of personal property loan can be used to finance expensive vehicles like planes, boats, manufactured houses, or farm equipment, where the property guarantees the loan.
Such mortgages can be available when you already own the land and finance the home.
The best thing about chattel mortgages is that it is typically faster and less involved than closing on a standard mortgage loan.
Advantages of Chattel Mortgage
Let's look at some of the most significant advantages of taking out a chattel loan:
Chattel mortgages typically come with shorter loan terms than with a traditional or conventional mortgage
Chattel mortgages usually have lower processing fees
Repayments can be fixed-rate or structured to a borrower's monthly cash flow
The interest on the loan is tax-deductible
Disadvantages of Chattel Mortgage
Here are some drawbacks to taking out a chattel mortgage:
Chattel mortgage lenders typically charge higher rates than what you'd receive on a traditional mortgage
The borrower can lose their property to the lender if they fail to make payments
Personal Loans
Manufactured/mobile homes are generally less expensive than stick-built homes; as such, you can finance them with a personal loan.
A personal loan is an amount of money you can borrow to use for a variety of purposes.
Personal mortgages can be offered by banks, credit unions, or online lenders. The money you borrow must be repaid over time, typically with interest.
The interest you pay is expressed as an annual percentage rate (APR).
The average APR on a personal loan is 9.41%, as of June 2019, but it can range from 6% to 36% depending on your creditworthiness, which includes an examination of your income, debts, and credit score.
What You Need to Know About Personal Loans
A personal loan can be used for almost any reason, from debt consolidation to unexpected doctor bills to taking a vacation
Most personal mortgages do not require collateral, which makes them unsecured mortgages
Personal mortgages must be paid back over a set term, usually two to five years
The best personal mortgages will depend a lot on your creditworthiness and why you need the loan
Fannie Mae
You can get a manufactured home loan under the Fannie Mae MH Advantage Program, as long as the title includes both the home and the land it's on.
It's essential to note that the home must qualify as real property.
To qualify for this type of mortgage, you need to meet certain conditions, including installing the home with a driveway, and a sidewalk that connects the driveway, carport or detached garage.
The home must also meet particular construction and safety standards, architectural design and energy-efficiency standards, similar to site-built homes.
Such a mortgage requires a down payment as low as three percent, with a 30-year financing term.
This type of mortgage has lower interest rates compared to most traditional mortgages for manufactured homes.
Freddie Mac
You may also be able to secure a loan with the Freddie Mac Program. However, the home must be considered real property.
Qualified borrowers may be able to choose between fixed-rate mortgages (15, 20 and 30 years) and 7/1 or 10/1 adjustable-rate mortgages.
You may be able to secure a loan with as little as three percent down.
What You Need to Know When Looking for Mobile Home Financing
Financing a manufactured home can be overwhelming if you are a new buyer, but with a bit of help, you'll be able to get it. Here are a few tips to use.
Check Your Credit Limits
Most financial institutions will use your credit score to decide whether to award you the loan or decline your application.
Clean credit histories and solid credit scores make it easier to secure mortgages, and receive better rates and terms, from lenders.
Suppose you find out something that is not adding up with your credit history. In that case, you can file a complaint to dispute them, with the appropriate credit bureau (Experian, TransUnion or Equifax).
Figure out the Specifics of the Home that you Want to Purchase
The specifics of your home will affect the type of mortgage you can qualify to receive.
For example, if you want to buy a double-wide manufactured home that costs $100,000 or more, you won't be eligible for an FHA loan.
As you figure out the specifics of your home, always keep in mind the mortgage you are after.
Are You Buying Land in Addition to the Mobile Home?
Some mortgage criteria are specific about what it can cover; for example, the chattel mortgages can only be used to finance the home, not the land.
If your home has had the axle and wheels removed, it's less likely that you'll pick up and move. This may make more lending institutions open to financing a mobile home.
Compare Interest Rates
Lenders have different interest rates; as such, you should compare and pick one that is more affordable.
Submit Your Mortgage Application
You will want to ensure the details on the application are complete and transparent. Failure to complete, or giving false information, can lead to a decline of your application.
If everything sits right, submit the application.
Final Thought
Securing a mobile home loan isn't as hard as you may have thought; however, it can be a nightmare if you don't know how to go about it.
It is true that mobile home loans can be challenging, but with the guide above, we hope you can finance your home as soon as possible.