More people nowadays prefer to live in mobile homes than ever before. The benefits of living in a manufactured home include ample space, energy-efficiency, and affordable pricing, among other things.
One thing to understand about manufactured homes is that you can either have them in a mobile home park or on your own lot. If you decide to go with the mobile home park option, you are responsible for paying monthly lot rent on top of your monthly rent for the home. With that said, manufactured home living in a mobile home park presents several benefits worth the additional cost.
If you are wondering what mobile home lot rent costs and what is included with it, you are in the right place. Here, we provide all the possible information you would need to understand about mobile home park lot rent.
What is the Lot Rent for a Mobile Home Park?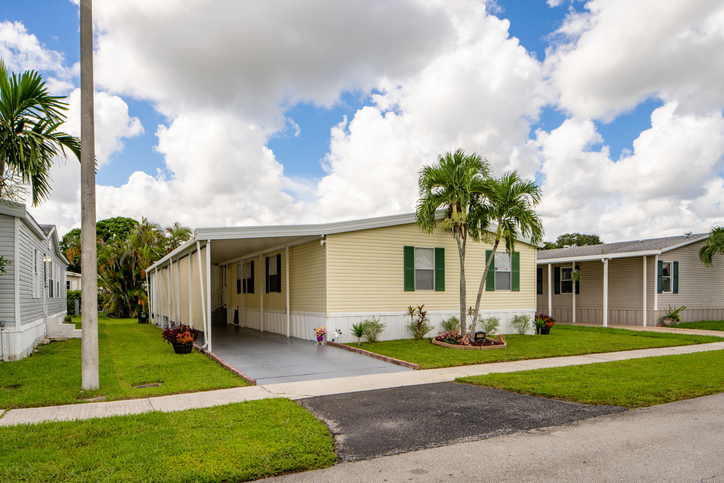 There are so many questions related to lot rent that remain unanswered. For instance:
What does lot rent involve?
What is its lease or rental contract like?
What policies are involved for a mobile home park lot rent?
Keep reading for answers to these questions, and others:
What is a Lot Rent?
A lot rent, also known as plot rent or site rent, is a lease or rental contract on a piece of private land. Here, you are required to pay a monthly fee to have your mobile home on the lot, live in the park, and access park amenities. In many cases, the lot includes a garden or yard.
A manufactured home park lot typically includes:
The Lot
Most of the fee you pay goes towards the payment of the lot of land. Most lots cover an area of 960–2,400 square feet, but could go as high as 3,600 square feet, especially for triple–wide mobile homes. A lot needs to be at least 40 feet wide for the mobile home to fit well.
Access to Mobile Home Park Amenities
Paying lot rent offers access to different amenities within the community, such as parks, recreational areas, playgrounds, and swimming pools. However, amenities such as laundry rooms, cable TV, and showers might cost you more, depending on your usage.
Also, lot rent typically will not include utilities like electricity, water, and sewer. Additionally, the pet fee is not part of your lot rent.
Lot Rent Lease Contract
A lot rent comes with a lease contract with terms for the rental. It outlines any fines and fees that a person is supposed to pay. Additionally, it sets the standards for lease and property termination.
For your information, the lease outlines the following:
Lease length
Most landlords lease mobile home lots in terms of 24, 12, or 6 months. States regulate the lease periods to prevent manufactured home communities from tying individuals to long and unreasonable lease contracts.
Lease Terms
Expect the lease terms to have critical details like the size and address of the lot, along with utility rules, among others. Find out what utilities you pay in a mobile home here.
Rent Rate
It outlines the amount you are required to pay rent monthly. Additionally, it stipulates the additional costs owed to parks (pet fees, sewage, electricity cost, etc.), along with fees and fine details, breach of contract stipulations, and rent increase standards.
Rights and Duties of the Tenant and Property Owner
The lease contract outlines the responsibilities of both the tenant and landlord or park manager. For instance, the landlord is supposed to keep the lot well-maintained and clean, while the tenant must make prompt payments and request maintenance.
Rules and Regulations
Every lease contract in the manufactured housing industry has specific rules concerning lot usage. For instance, according to many rules, you won't be allowed to move from the lot and leave your mobile home there. Additionally, you might be prohibited from selling your mobile home on the lot without the landlord's approval.
In the lease contract, you will also come across rules related to property damage, parking, property changes, pets, general upkeep, and manufactured home maintenance. The rules apply to both the park owners and the tenants.
Factors Affecting the Lot Rent Rates
We all know that the mobile home lot rent is not constant. The rates vary based on different factors, which we will consider below:
Maintenance
The rate depends on how much the mobile home park owner spends on maintenance services. The common maintenance services include repairs and lawn care. The more the park owner spends on maintenance, the more rent you are likely to pay.
Mobile Home Size or Lot Size
Normally, a larger mobile home or lot will attract a higher rent. However, it will be worth it if you would like more living space to go for larger mobile homes for sale and/or larger lots.
Rent Control
In some states, the rent you will pay to your mobile home park may be controlled by the respective city. In such a case, it is illegal for the park to charge more than the city's set rate.
Location or Area
If the park is located in a desirable neighborhood, expect the lot rent rates to be high. A desirable neighborhood means a generally expensive location or one with beautiful surroundings.
Available Utilities
Some mobile home parks include utilities in the lot rent. Common utilities included could be water, electricity, cable services, and garbage pickup services.
Available Amenities
The more quality amenities there are in the park, the higher the lot rent you will pay. Common amenities you might encounter include a community center (for community events), swimming pools, a fitness center, and laundry room.
Does Lot Rent Cover Property Taxes?
These taxes always apply to almost every type of residential place, regardless of the state. It does not matter whether residents own the residential place or not.
However, in the case of a mobile home, we are talking about personal property and not real property, unless the lot it stands on belongs to you.
What Influences Taxes on Mobile Homes
The mobile home taxes you pay will depend on several factors, including the condition of the mobile home, its monetary value, and the state the home is located. Additional factors include:
●       Tax credits
●       The tax capacity
●       The tax rate value of the current market
●       The classification of property tax
Mobile homeowners owe taxes to the DMV at the rate of between 1% to 2%. For instance, in the state of Utah, a manufactured home or mobile home is categorized as a trailer coach in trailer parks.
Generally, if you own a mobile home park, expect to pay property tax on the manufactured home and an additional tax on the land. In most cases, it is the landlord's responsibility to make such payments unless stated otherwise in the lease.
In a nutshell, if you pay a mobile home lot rent, you will not have to pay any extra or higher property taxes. Therefore, we recommend that you read and understand the land-lease agreement before signing it. Learn what the benefits are of a mobile home land-lease community here.
What is Covered by a Lot Rent?
You need to know what you are paying for before signing a lease. Below are important things covered by a lot rent:
A swimming pool
A piece of land where you can place your mobile home
Access to different amenities and their related maintenance services
It may involve mobile home rent
Laundry facilities, including washers and dryers
Play areas or playgrounds
A community center
What the Lot Rent Will Not Cover
Several things will not be part of your lot rent. It is, therefore, critical that you double-check the lease agreement for missing items. In most cases, the below items won't be included:
Insurance: For most mobile home parks, insurance is not covered in the lot rent. If your intended location experiences extreme weather, accessing the necessary insurance might be a major expense. You need to know the wind zone ratings for manufactured homes in such a case.
Taxes: Apart from property taxes, there are additional taxes you may incur on your home.
What is the Average Lot Rent Cost?
There is no set lot rent cost. This means that you will find different lot rents across your states. We, therefore, recommend that you review the lot's cost in your location, determine what you will get for the price, and act accordingly.
According to some experts, the country's average mobile home lot rent is $380 per month. However, the rate varies depending on several factors and could start from as low as $100 and go to as high as $900.
For your information, a larger organization usually presents standardized lot rents compared to small parks. You might also get cheaper lot rents from unprofessional park owners. Therefore, review your options well before committing to a specific manufactured home community.
Mobile Home Lot Rent Stability
Many people worry about whether the lot rent could be raised after a new landlord or community owner acquires the park. The good news is that such practices are deemed illegal by some states. In fact, for some states, the brand new mobile home owner must maintain the lease terms as long as it lasts.
For this reason, the original owners must negotiate the lease takeover with the new park owners to avoid such problems. They also have an option of seeking release with their tenants. Always understand the lease and local lot renting laws to avoid trouble.