More often than not, the idea of land-lease communities can seemingly be complicated, but trust us, it's not.
As manufactured homes become more and more popular in America, land-lease communities have actually been a home for millions of Americans for as long as history can remember.
So that begs the question, what exactly is a land-lease community?
Land-Lease Community
In simpler terms, residents of land-lease communities either own or rent, while leasing land the home is set on, from the landowner. Such an agreement allows a resident to choose a living arrangement that could be a manufactured home that is rented monthly (rent would include home and lot), or a mobile home that is purchased, with a land-lease agreement made separately (meaning they are only leasing the land).
With a land-lease agreement, you never have to worry about the land if you choose to purchase the house. However, in some cases, people have opted to buy the land instead, and install their manufactured homes on it.
Nowadays, some countries have adopted land-lease manufactured home communities for senior citizens instead of enrolling them into home care services. The majority have had positive sentiments about the experience, in comparison to senior citizen home care or retirement facilities.
Companies have created these land-lease communities to fit the age bracket of the elderly, making them ideal places for senior citizens to spend their retirement days. Living in a land-lease community comes with a set of benefits that you may not find with site-built homes. Here are some of the benefits you need to know of a land-leasing community: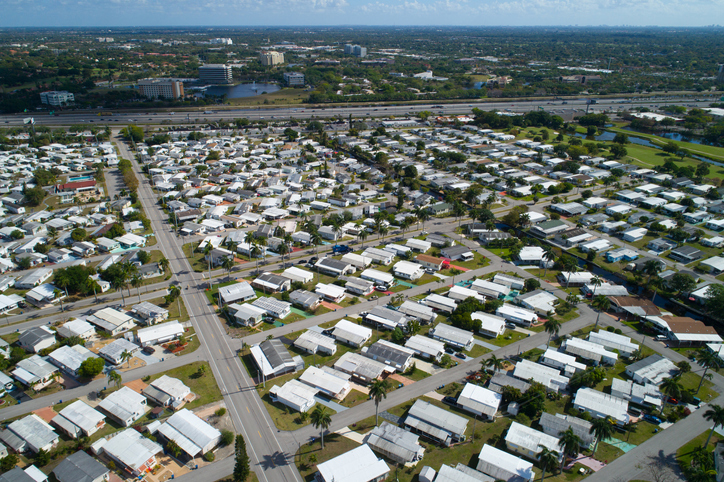 More Affordable to Residents
Residing in land-lease manufactured home communities is classified as one of the best ways to save money, as far as living arrangement is concerned.
With site-built homes, you're subject to monthly payments including a mortgage and property taxes. As such, you're likely to be overwhelmed in case of a decline in your income stream; which could be catastrophic.
However, when it comes to a manufactured home, you're likely to save more money, which can be used for other investments to secure your family's future.
A manufactured home community provides the right environment for a savings culture, as you will be living at a more affordable cost than a site-built house. With manufactured home communities, your main concern will only be the monthly rent for your lot, which is ridiculously less expensive.
The leased land community agreement can be renewed based on the relationship you have with the landowner.
You're not limited when it comes to how long you should stay in a leased land community. As long as you adhere to the community regulations put in place, you are less likely to have trouble with anyone.
On-Site Maintenance
One responsibility that can be crossed off the list while living in a land-lease manufactured home community is the land itself, or any form of maintenance needed for it, even during the wee hours of the night. Most lease community management teams provide 24/7 support as part of the benefits, which you're unlikely to get in the case of a site-built house.
The services are readily available and pretty affordable, as compared to traditional real estate property homes. Depending on the scope of maintenance, some things you may be required to pay for, and others may be taken care of by the lease community management. It all depends on the lease agreement you signed before joining the community.
Usually, arrangements are made with the lease community property management on what each party is responsible for before signing the lease agreement. For example, who is supposed to handle sewage, water, or lighting issues? From that agreement, whenever a need arises, it is well-known and outlined who is to handle it. Therefore, make sure to insist on agreeing to the maintenance responsibilities before joining a leased-land community.
Little to No Taxes
Buying a traditional real estate property can be exciting for many, and usually it is a sign of progress, while giving one some sort of self-entitlement, right? However, don't be illusioned that it is cheaper to build a site-built house compared to renting a lot you park your home on.
With a site-built house, you're obligated to pay property taxes, which is something that can prove difficult, especially if your income stream isn't up to it.
With leased-land, you are not entitled to paying such taxes since you only rent the lot, and do not own the land. Albeit, the state tax on homes vary.
In some states, if you own the home, and not the land, you will likely pay personal property tax to the state motor vehicle department. However, states such as Michigan require no annual tax for factory-built homes. Often, however, the state will levy a tax at the time of the manufactured home purchase.
In simple terms, you pay little to no taxes when manufactured homes are involved. Living in a lease community can be a wise choice, especially if you're looking to live on a budget and reduce the monthly costs.
Social Amenities
Just like its name, leasing land in a community comes with a package of benefits that normally you wouldn't get with any traditional real estate property home. These amenities include, but are not limited to, a playground, swimming pool, and fitness center, among other amenities, and they are all at your disposal.
Such can boost social interaction within the neighborhood, unlike the kind of isolation you have in the backyard of traditional homes. A main objective of lease community management and lease community living is to make everyone live happily by providing such essential amenities for its residents. The harmony created within a leased-land community is what keeps people together, while sharing and enjoying such amenities.
Privacy
As opposed to rental apartments and condo complexes, where privacy is not an option, oftentimes those who live in a leased-land community have their needed privacy.
While living on leased-land, you don't share walls, ceilings, or floors with any other residential structure. While you may sometimes share the same driveway and meet often in the neighborhood, one can rent a ridiculously affordable lot and have a peace of mind in their space, without worrying about privacy.
Many times, living in an apartment can be chaotic. It can be in the form of loud music or any form of environmental destruction that doesn't suit your family situation. A leased-land community, on the other hand, has a set of regulations that governs the neighborhood, ensuring everyone lives in peace.
Besides, the land-lease community is more organized and disciplined, so residents understand that any breach of the rules and regulations may lead to immediate termination of their lease agreement. It is because of this that people stay on their toes without infringing on anyone's privacy or causing unnecessary disturbance.
Pride of Homeownership
Without a doubt, there's always something profound when you buy a home. The feeling is almost indescribable as one achieves the milestone of homeownership.
Not everyone gets to enjoy this, as often the case, because buying a site-built home can be expensive, and beyond the limits for some people.
However, since you're only required to purchase a house, and not the land, when it comes to leased-land communities, you're likely to own a home more affordably and still live the quality of life that you want.
Nowadays, modern manufactured homes are built efficiently to the required standards by the U.S. Department of Housing and Urban Development, commonly known as the HUD code.
Sense of Community
Living on leased-land offers more than just affordability.
The aspect of feeling that you belong within a community is so intense and irreplaceable.
Living in apartments can be challenging. You can go days, weeks and even months without meeting your next-door neighbor. This simply isn't the case with a land-lease arrangement/community.
The leased-land brings people together through various activities and amenities available within the premises. That's what makes these places so lively and more attractive to many.
Extras:
Age and Population Restrictions
Some communities have an age restriction. Those living in a like-minded community are often happier and feel safer. Therefore, land-lease communities are accommodative when it comes to age.
Therefore, anyone with a specific liking will most probably end up finding the preferred leased-land community to join.
Pet-Friendly
Most land-lease communities allow pets around, albeit with some regulations put in place so that it doesn't be of concern to those of opposite liking. Pets are companions and make a home livelier. However, you should always confirm with the landowner to find out more details about their pet policies.