You've probably called them mobile homes for years without realizing it's not really what they are referred to. Mobile homes is what houses were referred to as when they were built off-site, up until 1976, before a major overhaul of the construction policy by the U.S. Department of Housing and Urban Development. Mobile homes that were built after 1976 are referred to as manufactured homes.
According to a report by the National Housing Institute, more than 22 million people in the United States live in manufactured housing. This shows just how popular manufactured homes are in the United States.
A manufactured home can surprisingly be spacious with more living room space, a bigger kitchen, and large bedrooms. While it may be easier for anyone to spot a manufactured home, the updates in recent years have made it resemble a site built home, or traditional real estate home, with a customized floor plan and increased ceiling heights.
A modular home is a subset of manufactured housing. Like manufactured housing, they are factory built and transported to the site. However, modular homes are set on a permanent foundation. Modular homes must conform to specific rules, guidelines, and building codes that often surpass those of traditional on-site homes. Besides, loans for modular homes are the same as those of site built homes.
What is Manufactured Housing?
Manufactured housing is a housing unit entirely factory built and transported to the homeowner's site. Manufactured homes come in single units and multi-section. Multi-section often pertains to a larger home, with more varying dimensions than a single unit.
"They are built on solid steel frames, giving them a sturdiness that belies the stereotype of yesteryear," says Chase Daugherty, vice president of Express Homes, a manufactured home building company.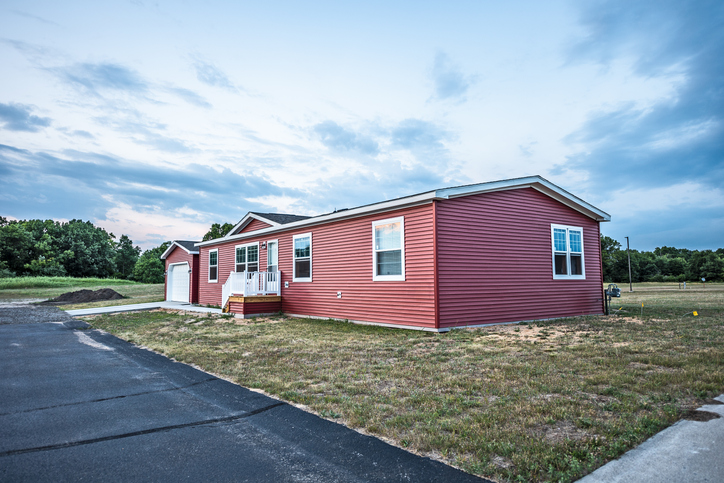 All manufactured homes are built in compliance with the HUD code, which was put into place on July 15, 1976. The changes covered the design and construction specifications, strength, and durability, among other things. Generally, the quality standard was improved, which ushered in a new generation of mobile houses that is now referred to as manufactured homes.
As part of the HUD code implementation, each manufactured home is required to have a data plate.
What is a Data Plate?
A data plate is a piece of detailed paper containing full manufacturing details, located inside of the home. It is often located in the kitchen cabinet or the bedroom. On top of the data plate, each house is labeled on the outside with a red "HUD label," which signifies the manufacturer built the home to conform with the HUD code, set by the U.S. Department of Housing and Urban Development.
Homes built before 1976 cannot have the HUD label or certificate, even when they are updated to current standards.
Sometimes people might remove the data plate, for whatever reasons. In such a case, you might be able to get a replacement from the Institute of Building Technology and Safety (IBTS). It can provide you with a label verification letter or performance verification certificate, depending on your need.
Often IBTS provides assistance to government agencies on behalf of the federal government. However, it cannot fetch data information for mobile homes built before 1976, which is around the time the HUD code was implemented.
How Long Does it Take to Build a Manufactured Home?
One of the best things about buying a manufactured home is the short time it takes in the construction phase and delivery process. It can take anywhere between 2-7 days to build in the factories. However, the actual moving in for a homeowner may take up to 4 months from the date they placed an order.
Many factors come into play that results in taking months before the actual delivery to the homeowner. "There are many factors that contribute to the timeline from when a customer signs a purchase agreement until the time a manufactured home is move-in ready – permitting, financing, and site-prep to name a few," says Mark Bowersox, EVP, Industry Relations at the Manufactured Housing Institute (MHI).
The Evolution of the Manufactured Homes
Manufactured homes were built to address a specific purpose. It was meant to offer affordable, low-cost, owner-occupied housing to the masses. Manufactured homes share the same historic origins as travel trailers, however today the two are very different, even in their sizes and furnishing. Travel trailers are being used to offer temporary or vacation homes.
The Early Movable Homes
The history of movable homes can be traced back to the 1500s, during the roaming band of gypsies who traveled with their home-drawn mobile homes. In the United States, mobile homes were built around the 1870s. This type of mobile home was simply moveable beach-front properties built in the Outer Banks region of North Carolina and moved by horses whenever it needed to be.
However, the current manufactured homes, that are known to many, were brought to demand following the end of World War II. The veterans returned home needing housing, which resulted in high demand. The housing in supply couldn't serve the returning veterans. The trailer industry, on the other hand, responded by building small homes that could be moved from place to place and could house the veterans and their families.
In 1943, a mobile home had an average width of eight feet and a length of more than 20 feet. It served up to three sleeping sections, but one big miss was a bathroom. It didn't have one! By 1948 the mobile home was a little more improved with a bathroom added on board and the length increasing as far as 30 feet.
With that said, in the 1950s and 1960s Americans wanted larger homes with improved amenities such as better appliances, among other things. The demand ushered in a new generation of mobile homes that suited the needs of a young family.
From Mobile Homes to Manufactured Homes
On July 15, 1976, Congress passed the National Mobile Home Construction and Safety Standards Act (HUD CODE) which made manufactured homes the only form of single-family buildings subject to urban development HUD.
In 1980, Congress again approved the use of the term "Manufactured Homes" to replace "Mobile Homes." Nowadays, manufactured homes are situated in land-lease communities, commonly known as trailer parks. This is the land on which the home sits on. The homeowner is thus required to pay a Lot rent.
Mobile park owners, on the other hand, provide utilities such as water, electricity, garbage removal, sewage and pools, among other things. While parks are known to provide basic housing needs, some parks have specialized in providing shelter for senior citizens.
Why You Should Consider Living in a Manufactured Home
Manufactured housing has attributes you won't get with traditional homes. They provide flexibility when it comes to housing needs. Here are some of the reasons why manufactured homes are a great option to take for housing needs:
It's Affordable and Easy to Acquire One
The primary reason for mobile homes, back then, was to provide veterans with affordable housing. The same applies to date, however, manufactured homes now are far more improved and customizable compared to those built before 1976.
You need little effort to find a community park where you could lease land and have your home on it. In fact, you can find used manufactured homes available, which will take a shorter time to complete the paperwork for and move in to.
On the other hand, site-built homes take longer to finish construction. They need more time, from the basic design of the house to the actual building. This is different from manufactured housing, which is built in an assembly line, making the process smooth and easy for bulk production.
Typically, a new manufactured home will take as low as two days to finish building, and up to 4 months before moving in.
According to a report by the U.S. Census Bureau, the average sale price of a new manufactured home was $88,200 in August 2020, the most recent average price available. This is way more affordable compared to traditional homes, which around the same time was around $325,000.
As of December 2020, the cost per square foot of modern homes was ranging from $240 per square foot to over $325 per square foot. This means more square feet for a modern home would cost a lot more than buying a manufactured home.
Easy to Maintain
Traditional homes come with huge responsibilities of maintenance, unlike homes manufactured in factories. Usually, the cost rises depending on the size of the house. However, when it comes to manufactured homes, it's relatively cheaper to maintain and pretty much stress-free.
The park takes care of major responsibilities of homes manufactured in factories, that usually could have been yours if you owned a full site built home. For a family living on a budget, this could be a great option due to its low cost of maintenance.
Fast Installation
Dealing with manufactured housing isn't that complicated. It is easy to get your house installed, within a short time, after placing an order. Unlike solid homes, manufactured homes are easy to install.
The typical process will look something like this:
Step 1: Obtaining Permits
The first step is obtaining the permit to set up the mobile home within your area. You should inquire with your local home park manager about the requirements. It's a common industry practice for inspection to happen after completion.
Step 2: Prep the Site
After securing the necessary permits required, it's time to prepare the site to install the house. This includes ensuring the site ground is level to the right standard. Also electricity and water must be installed. Make sure you work with a licensed contractor to install all of these items.
Step 3: Build Footer Foundation
Prepare the footer foundation if it's not there already.
Step 4: Move the House into Place
With the foundation set up, now is the time to move the house into place.
Step 5: Secure the House with Hydraulics Jacks
Hydraulic jacks offer the necessary support the house needs. It's not advisable, however, to use mechanical jacks as they may not be as sturdy and can collapse.
Step 6: Construct Foundation
It's time to build the foundation and give the house the right weight support by building piers under any area of the mobile home.
Step 7: Lower the Jacks
Lower the house from the jacks on to piers, but do not remove the jacks as they may be important for leveling.
Step 8: Check the Interior Leveling
Finally, check the interior of the house and make sure it's level.
Fulfilling Housing Dream
Anyone can fulfill their dream of owning a house through manufactured homes. Since they are more affordable ,compared to traditional homes, they can be acquired via personal loans or savings, if possible.
They offer an escape route, and while the traditional homes might be complicated, manufactured housing offers a smooth path to be a homeowner.
Simple Life
The fact that the homes are more affordable and easier to maintain, you're likely to have a more stress-free life. You wouldn't have to worry about the responsibilities that normally a traditional home will demand. You'll have more time to do other important things.
Energy Efficient and Eco-Friendly
The Manufactured Housing Institute reports that such housing construction is in a way that yields up to 90% less waste and environmental impact than site built housing. The increased energy efficiency makes manufactured homes more eco-friendly than traditional homes.
Besides the fact that it's factory built and transported to sites, it offers little environmental damage compared to site built homes.
Manufactured Homes are Quality Controlled
While many might assume that manufactured homes are of poor quality and vulnerable to weather, the Manufactured Housing Institute points out that this is a common misconception.
In fact, after the 1976 HUD Code came into effect, modern manufactured homes were subject to federal building code, which resulted in a higher standard of manufactured homes being constructed, which is far superior to those previously referred to as mobile homes.
The homes are built to withstand the harsh environment. Thus anytime you're buying a manufactured home, be rest assured you are not likely to be at any risk.
Last Take
Housing manufactured in factories is so much more reliable and affordable compared to traditional homes. You're more likely to fulfill your dreams of owning a house via manufactured housing simply due to the pricing and upkeep cost alone. Not to mention, home parks offer homeowners a sense of community. They often have group activities, fitness amenities, and caring neighbors.
The homeowners often have their driveway, backyard and are still close enough to have a neighbor, which fuels social interactions. While the manufactured homes may not be classified as a real estate asset, and thus not eligible for loans from some financial institutions, that doesn't rule out the fact that there's an option to acquire the house with a mortgage.