Buying a used manufactured home can be an excellent alternative to almost any aspiring buyer. Basically, used manufactured homes provide the opportunity to purchase the home of your dreams at more than half of the purchase price of a new one.
With that being said, knowing what to look for, understanding the process of buying a mobile home, and assessing the home's condition are all crucial. Cross-checking the facts of the house helps ensure that you are paying the proper price for it. Just like anything else, figuring out if buying a manufactured home is a good investment takes careful consideration.
Home prices are increasing at a rate of 6% annually, which means that if you don't cross-check the facts before buying your home, you could end up paying too much for it.
Should I Buy a Used Manufactured Home?
Whether or not to purchase a used mobile home is a decision that must be carefully considered. In an ideal world, everyone's position is unique, including family, finances, among other factors.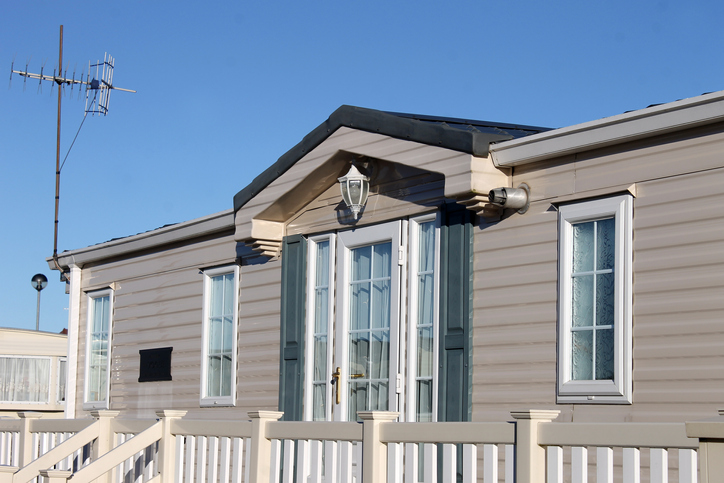 Maybe you're on a tight budget. Maybe your home is too big now that you're retired. Well, the good news is that used mobile homes for sale can find you good deals in terms of price and comfort, along with not needing to worry about the bigger maintenance responsibilities that come with a site-built home.
With that in mind, here's everything you need to know before you go out and buy a used mobile home.
Pros of Buying a Used Mobile Home
Before making a decision, you should examine the pros and cons of the option in front of you, just like you would with any other investment. So, here are some of the advantages of purchasing a used mobile home:
Reasonable Pricing
Manufactured homes offer many advantages over traditional homes, including lower price tags and quicker construction times, meaning you will save at least a few hundred dollars every month.
Although mobile homes are less expensive than site-built homes, this does not mean that they will come cheap. To buy a brand new home, you'll require a substantial sum of money.
On the other hand, a used mobile home will cost you substantially less than a new manufactured home, allowing you to own a home, even on a tight budget.
A single-wide mobile home costs $57,022, on average, while a double-wide mobile home costs roughly $102,551. If you look into the used mobile home option, you will discover that, in many cases, you can get a great home for less than $50,000, which is a fantastic deal, especially in today's market.
Additional Financing Options
Most mobile home communities are open to letting used mobile home buyers and sellers settle financing outside the bank or credit union. This implies that prospective buyers can, for example, agree to make a monthly payment to the private owner, until you clear the total cost.
This could be an excellent alternative for a home buyer with bad credit because you won't have to worry about your credit score and getting approved.
In general, the ways to finance a manufactured home are not as extensive as a traditional lending institution (local bank) for real estate assets. Unless your home is placed on private land or a permanent foundation, financing from banks (traditional mortgage) isn't typically an option.
As a result, any buyer with weak credit looking to purchase a mobile home could benefit from the communities' various seller/buyer settlement options. Feel free to review our guide on how to buy a mobile home already in a community for further details on this.
It's important to keep in mind that chattel loans for manufactured homes typically have higher interest rates than standard mortgages. If you want to buy a used mobile home, it is still best to improve your credit score to get better financing terms and interest rates from many lenders.
Gives You Flexibility
When you're on a tight budget, buying a new manufactured home may not be an option, but buying a used one still may be.
Since used manufactured homes are less expensive (there's an option of rent-to-own mobile homes as you pay the lot rent), you can take advantage of the opportunity to own a home while, for example, you wait to build your site-built home (real property).
Consider a used mobile home a place to stay while you get your life and your finances in order.
Cons of Buying a Used Mobile Home
Like any other investment, used mobile homes come with their own set of issues that you should be aware of before making a home purchase. Consider the drawbacks below before purchasing a used manufactured home:
Repairs and Maintenance
Further repairs and maintenance may be required to get a used manufactured home back into good working order. Unlike a new home, a used prefabricated home will not have a manufacturer's warranty to cover any unforeseen repairs.
As a result, it may cost you a few dollars to have it ready the way you want it. So, determine whether you have sufficient funds to devote to manufactured home maintenance and repairs needed.
Also, it's likely that the used mobile homes are not energy-efficient manufactured homes, especially compared to the energy-efficient ones that are made today, necessitating rapid renovations to save money on utility bills.
Potentially Not Code Compliant
The passage of the HUD code in 1976 required all mobile homes to comply with the new building standards to improve the quality and safety of the manufactured home.
If you're looking to buy a secondhand mobile home, go for ones manufactured after 1976 rather than before. You will have a low quality home and certain safety issues if you purchase a home that is not up to HUD Code for manufactured homes.
Resale Could Be Difficult
When you're on a strict budget, used manufactured houses are a great option. However, they can be difficult to resell, which means you won't be able to recoup your initial investment.
The life expectancy of a manufactured home is typically around 50 years, depending on the foundation's soundness and if it is well-maintained. So, if you buy a mobile home that was built before 1976, you risk losing your money in the future since the house will be in "no more repairs" condition at a much quicker rate. As a result, the only option, at that point, will be to get rid of it.
Not So Mobile
A used mobile home that has been long-standing can be difficult to move to another location without damaging the home itself.
Even though they are referred to as "mobile," this does not imply that you can simply hitch it to the back of a truck, like you would a car. It necessitates a significant amount of work, which is a time-consuming process and an additional cost to you. Read this guide on how much does it cost to move a mobile home for further details.
Tips for Buying Used Mobile Homes
The decision to buy used modular homes should not be taken lightly; you must proceed with prudence if you want to succeed.
Learn the Rules and Regulations Before You Begin
The first thing to understand is the HUD Code. Establish when the mobile home was built before buying. We recommend buying mobile homes built after 1976 for safety and quality purposes.
Furthermore, some mobile home parks will not allow mobile homes older than a particular age to be brought on their grounds. So, before buying a used mobile house, understand the park laws.
Look for Size
Buying a used mobile home means you'll have fewer options, in terms of model and designs. As a result, before heading to the housing market, figure out what size you want, and if you can find one, consider it a possibility.
For example, the number of bedrooms and bathrooms is important because they will affect the ultimate cost. For instance, if used 2-bedroom mobile homes for sale is what you seek, stay focused on that size, and consider all that fits that criteria.
Check Out the Water System
When buying a mobile home, it's important to understand the state of the home's water system.
A visual inspection can reveal deficiencies and potential problems with the water system. Knowing what you're getting into is an important step in making an informed decision about where you want to live.
In addition, looking at the water system of a residence can help you decide if it has reliable access to the water that you need for your living space. It's also crucial to have a professional inspect your kitchen sink and bathrooms for any potential plumbing problems.
Although a leaking faucet or clogged drain may appear to be minor issues, they frequently lead to more serious problems. Unnecessary leaks can cause water damage in your house and make it difficult to enjoy the space.
Examine the Power System
Though the option is affordable, purchasing a used manufactured house is still a significant financial commitment. Ensure there are enough electrical circuits in the facility to meet your needs before buying.
If you're planning on using more power than the circuit can handle, you'll have to hire an electrician or install a new circuit. Electrical wires that are faulty or worn out should be checked to ensure that they fulfill current construction codes and are not a hazard in any way.
Keep an Eye Out for Shingled Roofs
Mobile homes come in various shapes and sizes, but the roof is one of the most significant differences.
We recommend structures with a shingled roof over metal roofs because metal roofs lack overhangs when it rains, which might be an issue. Most shingled roofs have overhangs that aid in water movement and ventilation. You should always learn how long roofs last on manufactured homes.
Walls Should Be Sturdy
If you are looking for a used manufactured home, it is important to find walls constructed of durable materials. This will help you have peace of mind that your home will not sustain any structural damage.
Mobile homes are built with lumber in 2×6 size, which is considerably thicker than other sizes, and the studs' spacing provides superior protection. The extra space between studs gives more room for air to flow through the wall, which means better protection from mold and rot.
With that said, keep an eye on the wall materials before buying a used manufactured house.
Understand Your Local Market
Understanding your local market is essential while looking for a home. To avoid confusion and overspending, it's critical to determine whether your local market is a seller's or a buyer's market.
Visit a few different manufactured home communities to see which one best suits your preferences and fulfills your needs. If you're looking for a primary residence, you might want to look for a community that has everything you need close by.
Compare Pricing to Find a Better Deal
When purchasing a used mobile home, or even a "real property," seeing and just paying for that property is not the way to go. You must be tenacious in your negotiations until you obtain a favorable outcome.
As a result, start by requesting pricing from various sellers and comparing them before selecting one that meets your budget. If you do the proper comps research, you will increase your chances of securing the best deal.
Hire an Inspector
If you're not familiar with mobile homes and their needed repairs, hiring a professional home inspector would be wise rather than taking any risks.
Mobile homes are tough to work on because they lack the same amenities as a traditional house. This can make it difficult to find problems from simply looking at the surface of the home, which is why it's necessary to hire someone who specializes in mobile homes to help you out.
Find out how much experience numerous house inspection businesses in your area have in the mobile home sector by contacting them — hiring a reputable company with superior reviews is what you want for the best results.
How to Find Used Mobile Homes
Nowadays, many people are looking for secondhand mobile homes. However, they have difficulty locating them because they don't know where to look.
Although finding used mobile homes might be difficult, you will have a better chance of getting the property sooner than expected if you plan ahead of time.
Here are a few tips you should use to locate a used mobile home within your area:
Check Real Estate Websites
Browsing the internet can assist you in locating a used manufactured home much more quickly than you might expect.
While it might not seem like such an intuitive idea at first glance, the internet offers many sites that specialize in these homes and can help you locate one in your desired area at a fraction of the cost. They also typically offer a mobile home virtual tour for your convenience.
Visit Professional Mobile Home Dealers
Find nearby mobile home sellers and inquire about secondhand manufactured homes. If you ask them directly, you have a better chance of locating a suitable home.
Drive around to a few different mobile home dealers to see what they have and then move on if you don't find what you're looking for.
Ask for Referrals
Your friends and family may know someone who's recently bought a mobile home, or they might have a real estate agent friend who lives in a rural location far from your city. Your network of contacts could help you find the right house by spreading the word about what you're looking for.
Final Thought
After weighing the pros and cons above, we can ultimately conclude that buying a used manufactured house is a great idea. One of the most compelling reasons to consider buying a used manufactured home is the more affordable cost.
If you plan to live in a mobile home community, consider finding a suitable community that provides the best mobile home living experience.
As a result, you might want to look into Tyrone Woods Manufactured Home Community for more affordable mobile home options.