If you are wondering how long a roof is likely to last on your mobile home, you are in the right place. To start with, you need to understand that, just like with stick-built homes or traditional homes, there are many pitched roofs that you can employ on manufactured homes.
The truth is that the durability of your roof will depend on several factors, including the type of material used, amount of care, and the type of environment you are exposed to. For instance, asphalt shingle, which is a common roofing material, can last for 15–30 years. Additionally, metal roofs can last 30–60 years. With tile roofs, you can expect durability for about 50 years.
Here, we consider every possible information relating to the durability of mobile home roofs.
How Long Does a Roof Last on a Mobile Home?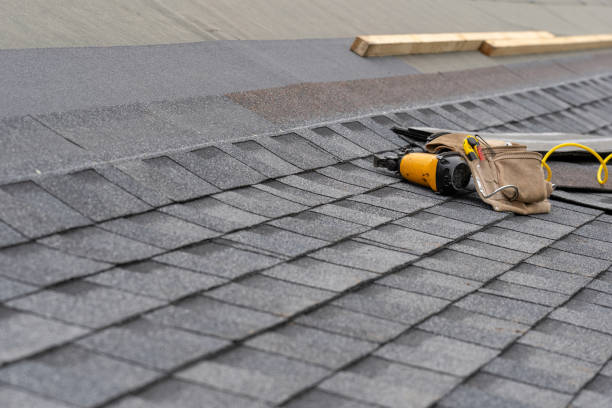 The durability of a manufactured home roof depends on a series of factors, including the type of material used, maintenance, weather conditions, and installation practices. Keep reading to understand more.
Factors Affecting Mobile Home Durability
Even before we consider how long a mobile home roof will last, let's consider the factors affecting its durability:
Type of Material
Without question, the type of material is the most important factor affecting the durability of a mobile home roof. For your information, several material types are employed in the development of mobile home roofs, including metal, tile, asphalt shingles, and rubber.
Concrete and tile have proven to be the most durable, with a lifespan of about 50 years. These mobile home roofs can actually last for more than 100 years with proper care and installation practices.
Asphalt shingle roofs are also popular and happen to be more affordable than tiles. These mobile home roofs have proven to last for about 30 years. With that said, such mobile home roofs can last for over 50 years with proper care.
There are still people who use wooden roofs despite being the poorest option on the market. These mobile home roofs can only last for about 20 years. We do not recommend them if you plan to build a mobile home in a rainy area. Lear how mobile homes are built here.
Finally, we have metal roofs that can last for over 50 years. You also have various options to select from in this area, including aluminum and steel.
Installation Practices
Regardless of the type of material you use, a poor installation will make roofs last for a shorter period. For this reason, we recommend hiring a roofing expert to do the work for you. Remember, a slight error can cause early deterioration or even an unplanned roof replacement.
While choosing a roofing expert, ensure they have worked before with the material type you intend to use. We also recommend going for an expert who offers a warranty on roof installation. A warranty shows that they have confidence in their work and is more of a guarantee for quality installations.
Environmental Conditions
We all know that the function of a roof is to shield the inside of manufactured homes from external weather elements. Some people do not know that extreme weather conditions can actually exert a lot of force on the roof. The end result is the roof failing, thus reducing its durability.
While selecting your roofing material, we recommend taking your surrounding weather condition into consideration. Remember, things such as heavy rains and strong winds can easily cause damage to your roof in the form of roof leaks. Checkout wind zone rating for mobile homes here.
For your information, tile is the best material for almost all weather conditions.
Maintenance
This factor may catch you by surprise, but how exactly do you maintain your roofing material, and how does it reduce durability? It is sad that most people only think about their pitched roof or flat roof when there is a leak.
The reality is that neglecting your roof after installation can lead to serious cracks and damages. It is, therefore, critical that you implement regular inspections to determine any damages. Here, we recommend involving a professional roofing inspector.
Sometimes, dirt or water might accumulate on your roof due to strong winds and heavy rains, respectively. In the case of rain, this is common with flat roofs and can translate into a leaking roof. Ensure that rain water is removed immediately after it is noticed.
You should understand that poor roof maintenance or improper installation might lapse your warranty on the materials. Checkout these other manufactured home maintenance tips to help you along the way.
Too Much Sun
According to roofing experts, too much sunlight is responsible for the acceleration of wear and tear of your roof. This is more common with dark ceilings. For your information, dark colors usually absorb more heat, which contributes highly to roof damage.
So, what is in the sunlight that accelerates degradation? Sunlight has UV radiation which speeds up the rate of decomposition. The rate is higher for metal than for tile roofs. Be careful of the type of material you choose and, if possible, seek help from the experts.
There are also UV-resistant coatings on the market that you can apply to limit the effects of UV rays on your mobile home roof. Lear what is the best roof coating for mobile homes here.
Age and Use
Almost everything in the world ages with time, and there is little you can do to control it. On this, even your roof is not spared. For instance, most metal roofing ages after about 50 years. When such happens, you need to do a repair or total replacement. An expert should do the proper replacement for you.
You will notice that how you use your mobile home roof affects its lifespan with time. For example, experts have confirmed that having heavy objects, such as solar panels, can exert a lot of pressure on the roof. The same thing happens if you were cutting a tree and it fell on your roof.
We recommend taking special care with the outside elements that might affect your roof. Learn how long manufactured homes last here.
Mobile Home Roof Ventilation
The type of ventilation you implement in your home is important since it gives the roof strength and makes your space even more comfortable. If you have poor ventilation, expect nothing less than the weakening of shingles. This happens due to the build-up of moisture and heat in your house, which can easily damage the roof from the inside.
When installing your roof, ensure that proper ventilation is implemented for it to be more durable.
Types of Roofing Materials and Durability
As we mentioned above, the type of roofing material used determines the roof's durability. It does not matter whether your unit is a flat metal roof home having aluminum siding or not.  Let's go through them below:
Asphalt Shingles
If you are interested in what is manufactured housing and the mobile home industry, then there is a high chance you have come across asphalt roofs. Most manufactured homeowners prefer these options, thanks to their affordability.
One thing to note is that these roofing materials are averagely durable compared to metals or tiles. Their lifespan is between 15 to 30 years.
Just so you know, asphalt roofs are made from a mixture of different roofing materials, including fiberglass, granules, release film, sealants, and asphalt. The granules are added to give asphalt color variety and UV light protection capabilities.
Many experts prefer working with asphalt since it is easy to install. Additionally, they are also cheap and low maintenance options.
There are three types of asphalt shingles to consider:
Dimensional Shingles
These options are otherwise referred to as architectural shingles and are available in at least two layers for a multi-dimensional look. The purpose here is to make the shingles more durable. However, it will also add extra weight to your roofing weight.
Most dimensional shingles manufacturers offer a warranty of up to 30-years on the products. With proper installation, expect this type of asphalt roofing to last for about 25-28 years. Find an expert contractor to do the installation for you since it will help determine how long the roof will last.
3-Tab Shingles
This option constitutes the most basic shingles. Unlike dimensional shingles, they are made of one asphalt layer. Since they are developed with a single asphalt layer, they happen to be lighter and more affordable than other options.
The light weight also reduces its lifespan to about 18–20 years. If you have no intention of spending a lot on roofing, we recommend these asphalt shingles.
Luxury Shingles
If you have ever used these shingles, then you understand they offer the best quality of any other option. For your information, they are also called premium singles. They offer the durability of about 25–30 years, which is higher than that offered by the other options.
With better durability, expect their price to be higher. They also present more value and weight than other options, which helps to limit the impacts of wear and tear.
We can at least recommend them for areas with strong weather conditions, such as rain and wind.
Metal Roofs
These are without question some of the most popular roofing material for mobile homes. However, compared to asphalt shingles they are more expensive, yet durable. Expect new roof installations to last between 30–60 years.
There are a few different kinds of metal roofing:
Aluminum Roofing
Even though aluminum is among the most lightweight roofing options, it is still highly durable. Compared to other options, it boasts a higher strength-to-weight ratio. This means that the installation of these roofing materials is easier.
You will like the variety of colors available, together with its easier maintenance. We highly recommend using them for architectural roofing.
Copper Roofing
Many people love copper roofing for its unique appearance. However, its color will change over time to look like a brown patina. For your information, copper is available in different styles, including:
Copper sheets
Copper panels
Copper tiles
Copper shingles
Apart from copper being long-lasting, it is also corrosion-resistant. You will find it easy to install, especially if you settle on a DIY project. Copper is also lighter than clay tiles.
With all that said, some people complain that they are hard to find and somewhat expensive.
Steel Roofing
This metal roofing option is by far the most popular on the market. If you don't know yet, steel is an iron alloy, among other elements. If you settle on steel, you will be signing up for low maintenance, high durability, and affordability.
For your information, steel roofing costs at least 35% lower than aluminum. For more durability of this metal, ensure proper installation. If possible, involve a professional.
Tin Roofing
You may be surprised to find tin roofing on this list. This is just rolled steel coated with tin. Since tin is tougher, bonding it to steel guarantees resistance to cracking and increased lifespan.
This metal roofing option started being implemented in the 1980s. However, it is not very popular nowadays among manufactured homeowners.
Zinc Roofing
This roofing option has similarities with copper. However, zinc roofing is not very popular in the United States, especially with mobile homes.
Nonetheless, it is something you can try if you want a corrosion-resistant roofing option. It also has one of the longest lifespans of 80-100 years. With proper maintenance, this time can increase even higher.
Getting a Professional Roofing Contractor
Implementing proper installation practices can greatly improve the lifespan of your mobile home roof. The starting point of proper installation is finding a reliable roofing contractor. Below are things to keep in mind while searching for a contractor:
Find a Referral
The best way to land a reliable roofing contractor is to get someone with a proven reputation for delivering quality work. This could be somebody who worked for your neighbor or friend before.
When you need your roof fixed or installed properly, start looking for a contractor from your inner circle. You can also message online reviewers directly to ask whether they could recommend someone they reviewed. Additionally, you could land reputable contractors after getting referrals from a hardware store or from various mobile home dealers.
Pricing
Remember that "cheap is sometimes expensive," and what you consider the cheapest bid could be a bad deal for you. Sometimes, you might just have to spend that extra penny to land the best contractor. It should be a red flag if a roofing contractor provides cheaper rates.
Bottom line is, at no point should you compromise quality for the price.
Research
Never rush in an effort to find a reliable roofing contractor. We recommend doing thorough online research to determine reliable manufactured home roofing contractors.
Ensure you go through their licensing status and double-check their business contacts.
Arrange a Meeting
After compiling a list of potential roofing contractors, ensure you meet with all of them in person. You can discuss with them in detail the best materials for the job, the building process, and prices.
Take note whether they have the relevant information relating to manufactured home roofing. Also, ensure they understand the HUD Code for manufactured homes as recommended by the National Manufactured Home Construction. Thanks to the code, neither the materials nor the construction process will comprise the roof's lifespan.
Final Remarks
The durability of your mobile home roof depends on several factors, including the type of material, amount of care, and the type of environment you are exposed to. Regarding materials, metal and tile roofs have the highest lifespan of 50 years and 30-60 years, respectively, which is almost the same as the lifespan of the entire home. Asphalt can last for about 15-30 years.
However, with proper installation practices and maintenance, you can increase the lifespan of your mobile home roof, no matter the material used. Just ensure that you get a competent contractor to do the installation.
Since mobile home parks have unique rules, check with the mobile home park manager before working on your existing roof.