Manufactured homes have grown in popularity as a result of their low cost. Nevertheless, they are costly enough that you may need to take out a loan to pay for them.
Having said that, in order to acquire the loan amount required, you will need a good credit history to persuade the lender that you are a less risky borrower, which will help you negotiate better mortgage terms.
In general, lenders differ, which means that loan terms will differ; nonetheless, every lender wants a decent borrower responsible for their money. This is why they are always concerned about a credit score.
What Credit Score is Needed for a Mobile Home?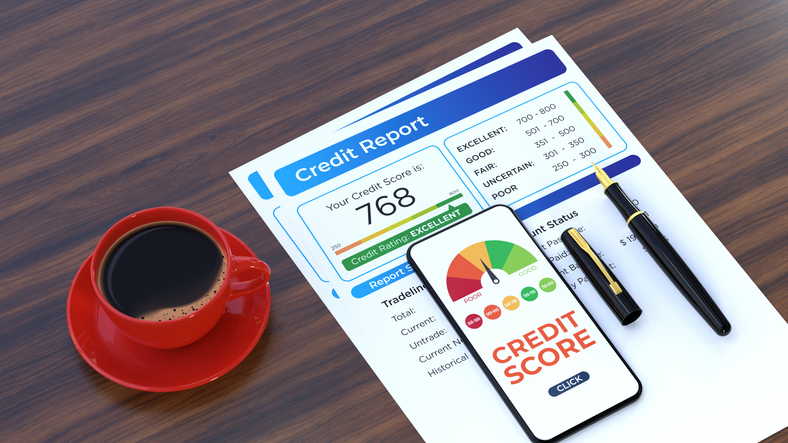 Typically, most lenders will require minimum credit scores of 580 to 620 to buy a mobile home. If you have a score below that range, you can still get a loan, but the interest rates will be substantially greater than if you have a good score. Checkout the advantages to buying a mobile home vs. renting.
A credit score can be affected by things like missing one payment or having too many inquiries on your credit status. Pay bills on time and fix any errors on your credit history to avoid negatively impacting your score.
If you want to improve your loan terms, you will need to adopt a cautious and smart approach to maintaining your score. For example, automate your bills to avoid late payments or totally forgetting the payments.
That said, let's dive in and talk in length about credit scores and manufactured homes.
Why Credit Score is Important when Purchasing a Mobile Home
A credit rating is used to establish how risky of a borrower you are, which helps the lender calculate how much money they are willing to offer you and on what terms. When compared to a borrower with a lower credit score, having a higher credit score typically means you will be able to get more money.
Can You Buy a Mobile Home with a Low Credit Rating?
Yes, you can purchase a mobile home with a low credit score (bad credit). A good score can help you get better loan terms (lower interest rate), but it is not the only thing lenders look at when deciding whether or not to lend to potential mobile homeowners.
That said, how crucial is a score when applying for a mobile home loan? Let's break down what a score is in order to comprehend its role better.
●       Payment history – represents 35% of your credit rating
●       What you owe or the amount of debt – represents 30% of your credit score
●       The type of debt account – represents 10% of your credit score
●       Length of history – represents 15% of your credit score
●       New credit – represents 10% of your credit score
As shown above, your payment history is by far the superior factor in determining your score. One missed payment can significantly impact your credit score, and it takes more than one payment to repair.
Your debt is also another important factor that can make or break your score. Most lenders use the debt-to-income ratio to determine whether or not to approve your credit application. This is used to evaluate whether or not you will be able to repay your loan.
That said, while you are worried about other things, remember that your debt-to-income ratio, just like a credit score, represents your financial health.
How to Repair Your Credit Score Before Buying a Mobile Home
What if you want to raise your score? Is it possible to fix a lower score or bad credit? A simple answer is yes. It is feasible to improve your score and, hence, your chances of receiving better loan terms (such as lower interest rate) in the future. With that said, this is a lengthy process that requires consistency and financial discipline.
Here are ways you can fix your bad score:
Check Your Credit Score and Report
Begin by requesting your score and credit report from the credit bureau. Three credit bureaus are in charge of ranking and preparing your credit report. They are as follows:
1.     Equifax
2.     Experian
3.     TransUnion
Although most creditors report to all the three bureaus, sometimes that is not the case. This is why your score might be different from one bureau to another. As a result, it is critical to double-check all of the information from the three bureaus.
Does checking my one score damage it? No, there is no need to be worried because checking your credit score is considered a soft credit inquiry.
Fix or Dispute Any Errors
The reason that the three credit bureaus often give you different ratings is due to the fact that they sometimes make mistakes that affect your score. This is why you must examine the three reports to see whether or not there are any inaccuracies so you can correct them. You can dispute them to the relevant bureau and have them corrected, if need be.
Always Pay Your Bills On Time
Paying your bills accounts for 35% of your score. So, if you want to improve your score, this is where you should concentrate your efforts. If you have a habit of forgetting to pay your bills, we recommend automating them. If you have bills that are not automatable, attempt to pay them as soon as you receive them.
Most people have problems with paying bills because they don't budget their spending well. This is a tailor-made recipe to mess up everything. That said, make your monthly budget and schedule your payments to avoid penalties.
Pay Down Other Debts
The best way to reduce your credit utilization ratio is by paying some debt off. You can do this by either focusing on credit cards with the highest interest rates or focusing on repaying credit cards with lower balances.
Do Not Take Out Credit Unless You Need It
Whenever you apply for a new credit card, the creditor will run a hard credit check and that can potentially impact your score. That said, only apply for a new credit card if you really need it.
Keep Your Credit Utilization Ratio Below 30%
A credit utilization ratio is a good metric creditors use to determine how well borrowers manage their finances. A credit utilization ratio is measured by comparing your credit card balance to your credit card debt limit. If the ratio is less than 30%, we can say you are better off.
Keep Old Credit Cards Open
Do not be quick to close your old credit cards after paying them off. Keeping them open will help you solidify your credit history/credit reports, potentially raising your score. With that said, if your credit card issuer charges an interest rate, you may be better off closing them than keeping them open.
How to Finance a Mobile Home
Now that your score has been improved and you are ready to buy your first mobile home, you now need to know how to finance a manufactured home and which lender to seek?
For starters, a mobile home loan is not the same as a site-built home mortgage. Manufactured homes/mobile homes are considered personal property and, thus, do not qualify for conventional loans/traditional mortgages. That said, you can get manufactured home financing through a manufacturer, bank, or credit union.
Unlike traditional mortgages, mobile home loans through credit unions and other approved lenders process the loan faster. Checkout our guide to mobile home vs stick-built here.
So, here are various manufactured home loans/mobile home loans you can apply for to finance your manufactured home:
FHA Loan
Mobile home loan/manufactured home loan applicants can get financing for both the lot and the house with an FHA loan (Federal Housing Administration). The home must, however, be your primary residence in order to qualify for an FHA manufactured home loan.
It is important to remember that the FHA does not actually offer you the loan directly; rather, they ensure loans made by FHA-approved lenders. So, if you are seeking FHA loans, look for approved lenders and submit your application.
FHA loans often come with a term limit of up to 25 years for FHA Title I loans and 30 years for FHA Title II loans. The good news is that the FHA accepts 3.5% as a minimum down payment. However, borrowers with a credit rating below 500 will be required to pay at least a 10% down payment. So, the secret to lowering your down payments is to improve your score.
If you have trouble coming up with money for the down payment, look for down payment assistance programs.
How much should you expect from FHA financing? Here's a breakdown:
Buying a mobile home and the land (maximum loan amount) – $92,904.
Buying the manufactured home alone – $69,687
You own the manufactured home, but need to buy land – $23,226
Most FHA-approved lenders require a minimum score of 580. So, if your score is less than 580, work on improving it to be eligible.
VA Loan
A VA loan is another manufactured home loan financing alternative for aspiring manufactured homeowners. However, this type of mortgage is reserved for the members of the military community.
This loan, like the FHA loan, requires that the home be your primary residence and installed on a permanent foundation. So, if you are thinking of the home as a secondary residence, then you may not be eligible for this loan.
The best thing about VA loans is that you don't need a down payment or mortgage insurance. Many people struggle to come up with a down payment, but VA loans eliminate that concern.
Chattel Loan
Chattel loans are often termed personal property loans because they are designed for the moveable property. This mobile or manufactured home loan is used to purchase mobile and manufactured homes in parks, meaning that it does not include the land. Learn how to buy a mobile home already in a community here.
Chattel loans for manufactured homes have a shorter repayment period, which is typically between 15 and 20 years. This means that you will have higher monthly payments, but you will own the home faster than you would with a conventional mortgage. Keep in mind that chattel financing, like personal loans, come with higher interest rates.
USDA Loan
One notable feature of the USDA loan (often known as a rural development loan) is that it requires no down payment, unlike other types of mobile home loans. However, you must meet the geographical and credit score requirements to be eligible.
Generally, up to 97% of the U.S. land mass is eligible for a USDA loan, meaning you can secure mobile home financing quickly with fewer upfront costs.
A minimum credit score of 640 is also required for USDA loans. With that said, if you earn too much money (annual income), you may be disqualified.
Should I Buy a Mobile Home?
The simple answer is YES! A manufactured home is worth your time and money because it is less costly compared to a traditional site-built home, and you may use a personal loan to finance your home. Read more about the answer to 'should I build a house or buy a manufactured home' here.
According to the Census Bureau, in November 2021, the average cost of a new single-wide prefabricated home was approximately $76,400. In the same year, the average cost of a new site-built home was $298,432. This is just one of many reasons why manufactured homes are becoming more popular.
Another reason is that manufactured homes/mobile homes offer flexibility and amenities that you may not find in traditional homes. For instance, swimming pools, fitness centers, and playgrounds are frequently available at mobile home parks. If you want to have the same experience in a site-built home (like in a  mobile home park/manufactured home community), you may need to invest in a swimming pool and fitness facility, which will be an additional expense, let alone a lot of upkeep.
Challenges to Watch Out for when You Buy a Manufactured Home
Look for mobile homes built after 1976, which is when Congress passed the National Manufactured Housing Construction and Safety Standards Act (learn more about the HUD Code for manufactured homes here). Many lenders are skeptical about manufactured homes built before 1976, meaning you may find it hard to secure financing.
Lenders consider older homes to be riskier to finance, which is why they often decline their applications and instead focus on newly constructed homes (learn how long it takes to build a manufactured home here).
Final Thought
Purchasing a manufactured home necessitates a good credit score and credit history (minimum credit score of 580). When compared to someone with a lower score, having a higher score often indicates you will be able to negotiate better terms for mobile home loans.
One of the best ways to avoid negatively impacting your score is by being up to date with your monthly mortgage payments because bills account for 35% of your score. Best of luck on securing financing for your next mobile home.