Quality mobile home flooring is essential for having a decent lifestyle. Even a little damage can be hazardous, so it is important to know how and when to replace the subfloor in a mobile home. In general, it is important to know as much about mobile home repair as possible. Knowing how to replace flooring and fix a window or roofing issue can save you a lot of money and hassle in the long run.
About the Subfloor in a Mobile Home
The sub flooring in your mobile home is the floor underneath all the other flooring layers. This is the layer resting on the joist. Its most important role is to give support to the flooring layers above.
About Particle Board
As a structural part of your mobile home floor, the sub floor traditionally used to consist of particle board. This is mostly glue and sawdust mixed together, which does not really make for the best results. Particle boards are quite susceptible to dampness, moisture, soft spots, warping, and rot. Some might say that a particle board mimics a sponge when it comes into contact with any moisture. Even a little dampness in particle board will quickly result in warping, rot, soft spots, and bowing.
Oriented Strand Board (OSB)
Fortunately, particle boards are no longer part of the latest and newest mobile homes. For a modern mobile home floor, you will usually find a sub floor consisting of oriented strand board (OSB) or higher grade plywood. These options are much more suited to resisting dampness and have a moisture barrier, thus mostly preventing further issues. However, there might be tiny leaks of water exposure that might still damage the subflooring material.
You can read up on the best tips for buying a manufactured home in order to avoid getting a low quality mobile home subflooring.
Checking for Damage in Mobile Home Floors
So, how do you know if there is a soft spot or any other damage in your sub flooring? There are some common signs of damaged subflooring material that are worth identifying. These might lead to the following:
A spongy, uneven sub flooring
Holes in flooring, for severe cases
A soft spot causing unlevelled areas
Particle boards are extremely absorbent as compared to more modern materials. As a result, one may notice more soft spots and damage when buying a used, older mobile home. Learn how to find used mobile homes for sale here.
What To Do in case of Mobile Home Subflooring Damage?
If your mobile home subflooring has suffered water damage and is exhibiting the symptoms above, installing a new subfloor is the only way to go. Simply repairing the soft spots will not do, as it will cause further damage to the new flooring. Saving a bit of money now can lead to higher costs down the line, so it is best to take action now.
The good news is that you probably do not need new flooring for the entire mobile home. You are most likely to have mobile home subflooring damage in moisture-susceptible areas, such as the bathroom, laundry room, around the kitchen sink, or wherever there is a leaking pipe. If that is the case, your mobile home floor replacement might only be necessary in those areas.
The Cost of Replacing Mobile Home Subflooring
Other than soft spots, you may also want to have a new subfloor in order to prevent future damage. If you are looking to customize a manufactured home, it makes sense to replace the old particle boards. This way, the entire floor will provide a more permanent foundation.
Here is what you need to replace that manufactured home or mobile home subflooring:
Subflooring materials
Extra materials, such as vinyl tiles
Labor
The exact costs of replacing your mobile home subflooring will depend on where you live. The size of the damaged area, the condition of the joists underneath, leaks that need fixing, and energy costs are a few more factors that contribute to the price.
Can You Do It Yourself?
If you are experienced in DIY projects and have the tools for handling mobile home subflooring replacement, it might be possible. However, novices and newbies who have not worked on manufactured homes and do not know all of the manufactured home maintenance tips should not be handling this job. You do not need specialty tools, but the difficulty scale is around a 7 out of 10.
What Tools Do You Need?
If you are not calling in a professional, here are the tools you need to collect before attempting a new flooring in manufactured homes:
Circular Saw
Pry Bar
Knife or some other kind of blade
Hammer
Scraper
Here are some materials you also need to have on hand:
Liquid nail adhesive
2×6 lumber (the exact amount will depend on the square feet of the damaged area and the perimeter of the room)
Suitable subflooring material
Galvanized screws
How to Replace Mobile Home Subfloor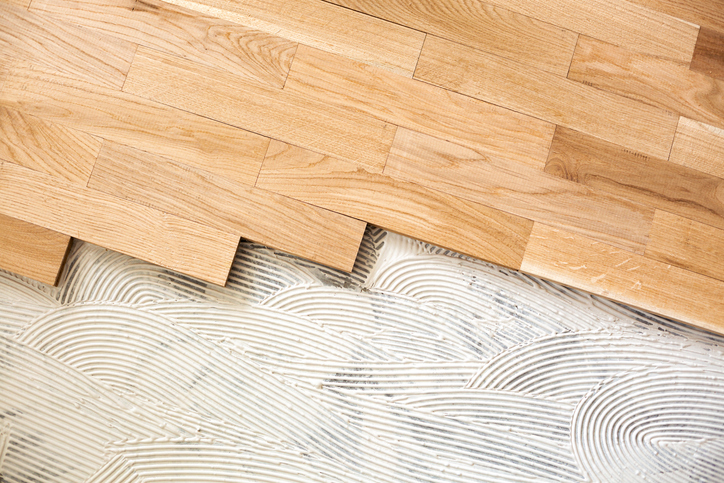 It is best to take this floor replacement as a step–by–step process. Here are the major steps you need to take when installing a new subfloor:
1. Remove the Floor Coverings and Trims
You first want to remove the topmost layer of the floor. This includes the floor covering, finished flooring, and the trim. The trim and floor covering might be of various types, so the details will differ accordingly. The following tips will help you in getting a new floor without risking much:
After you remove the floor covering, check for any leaks and repair them (this is also necessary when you are upgrading the entire floor)
Remember, mobile homes and manufactured homes consist of layers, with the walls coming in after the subfloor; this means that a new subfloor will require specific tools
Inspect the subfloor part that is under your wall; if there is no damage there, do not disturb it
Inspect the crawl space for any leakages or seepage
Mobile homes have a somewhat different structure than traditional housing (see mobile home vs. stick-built). Before starting this job, you may put things into perspective by looking up how long it takes to build a manufactured home.
Inspecting for Possible Leak Sources
After removing the floor covering, it will be possible to trace leaks more accurately. You can see where the damage is now, so follow it to the source. More often than not, the sources will be some sort of roofing issue or window problem. Even minuscule cracks can cause water to come in and run down your mobile home wall.
Other common leak sources can include damaged water supply lines or pipes. Bad toilet rings are also a risk factor here. The more you know about mobile home plumbing, the better you will be able to seek out these issues and start working on them.
2. Cutting Out the Subfloor
After the floor covering is gone, you have to remove the damaged or current subflooring. This is a challenging job; make sure not to disturb the floor joists as they are a structural component of mobile homes.
If this is a DIY project, you will be responsible for measuring at every step. At this point, measure the subfloor thickness – this will usually be either five-eighths or three-fourths of an inch. This measurement will tell you the right setting for the circular saw. You may then cut the subfloor, starting at six inches away from the mobile home wall. If you want to make it a closer cut, use a Dremel tool or knife.
Going Deeper
After going through the perimeter, cut the subflooring up into smaller, more movable pieces. If the floor joists have no wires or pipes running between them, see between the subfloor pieces and remove. The saw setting should remain at the same thickness as the subfloor in order to prevent damage to the floor joists.
If any of the under-wall subflooring has soft spots or other damage, cut it out around an inch to prevent further issues. This should enable you to put in the new floor afterwards.
3. Check the Joists
This is the part where you can see the joists underneath the subfloor very clearly. Use this opportunity and check them thoroughly. In case of damage, you might want to reinforce the joists with some lumber or outright replace them. It will be easier to simply reinforce any minor damage to avoid replacing it in the near future. While you are at it, check the other parts of the home, too. It might be helpful to look up how long a mobile home roof lasts and do any reinforcements now.
4. Putting in Insulation
You may be wondering how to add insulation to a mobile home. Without proper insulation, you lose up to 40% of your heat. In a mobile home, you can put insulation in your flooring while also doing away with those soft spots. Make sure to add insulation under pipes and wires in order to get all the heat to it.
While it is not mandatory to add insulation at this point, this step is highly recommended. You may have to spend an extra bit of money, but it should be well under $100 for a decent-sized mobile home. With the insulation, you will be able to save on your energy costs. The installation and material will probably pay for itself within the year.
5. Lay Out the New Subflooring
Laying out the subflooring is actually two steps; it consists of laying it along the perimeter first, and then the room.
The perimeter is the first step; you attach a 2×4 all around the room to make a new self for laying a subfloor. Where one unit of plywood ends and the other starts, make sure to reinforce the seams. You will also have to put in a 2×4 lumber between each original joist. This will give you a place to nail down the piece of plywood and glue it in place.
Keep in mind that the new subflooring should be in the same direction as the previous one. These will usually be running perpendicular to your floor joists.
6. Install the Floor Covering
This is a fun part of the job; you can choose a new floor and install it now! There are a lot of options for mobile homes when it comes to flooring. Here are some of the best ones:
Ceramic tile
Luxury vinyl
Hardwood
Engineered wood
Laminate
You will need to stock up on enough materials to put in the new floor. Get some extras as well; the lack of even one square foot can cause a lot of hassle. You may have to buy a lot of new materials if you live in a double-wide.
Marine-Grade Plywood
If you are planning to replace the floors of your kitchen or bathroom, you might want to look at marine-grade plywood. While it is one of the more expensive options, it has inbuilt waterproofing. This option will ensure that your floors are better able to withstand any seepage or leakages in the future.
Nothing can absolutely guarantee that there will be no more damage in the years to come, but choosing a better kind of flooring can give you some peace of mind. If marine-grade plywood is too expensive for your budget, you may want to check out the thickest vinyl within an affordable price range.
Sealing the Marriage Line
The marriage line is what we call the connection for an additional section in a mobile home. When replacing or repairing the subfloor, seal this line properly. If you don't, air and moisture is likely to leak through and cause frequent damage.
The Most Difficult Parts of Subfloor Replacement
Certain parts of the floor replacement process might be more difficult than others. Most professionals would say that removing the previous flooring and building the perimeter joists are the biggest challenges of this work. The various types of floors make it even harder; if you have tiles in already, someone has to rip them up before you even get to the subfloor. For a carpet, you may have to cut into strips and remove it permanently. Finally, it is quite a task to keep everything level. This is the floor we are talking about, so even a little unevenness can make your daily movements inside very troubling.
More Ideas for Properly Replacing Your Mobile Home Subfloor
Deciding to replace your mobile home subfloor can increase the quality of your daily life. You can walk about easily without worrying about tripping over a warped or bowed part of the floor. The replacement process will also mean a new floor, which means that the appearance of your mobile home goes up. It is just much more satisfactory to have a new floor when you also know that the foundations are safe and sturdy. This will also ensure that the new flooring does not face damage too quickly.
Get a New Thickness
If the previous thickness of your mobile home subfloor was three-fourths of an inch, make it five-eighths of an inch this time around. Plywood is one of the most recommended options, so ask your professional contacts if it is viable for your home. If you use an OSB, some sources recommend that the thickness should be at least 23/24 of an inch. This additional thickness is for holding both the fasteners and the plywood area.
It is also possible to paint the subfloor of your mobile home. While the sub floor would not be visible, the paint might add an extra layer of protection. Again, you should consult a professional source for the best kind of paint to use along with the proper application.
Putting New Subfloor Over Old
Some mobile home owners might try to save money or make their task easier by putting a new subfloor material over the old one. This way, they attempt to go around the difficult project of cutting away and removing the pieces of the old subfloor. However, this is not the best way to go about it, especially if the old subflooring is particle wood.
As mentioned before, particle wood will soak up all the dampness around it. If and when that happens, the new subflooring on top is also very likely to sustain damage. In some cases, however, plywood on top of the old subflooring might be a strong foundation for floor coverings, such as carpet, vinyl, laminate, or hardwood.
The Takeaway
Replacing the subfloor of your mobile home is not going to be an easy task. If you are a DIY expert, you can probably manage to accomplish this task and save a bit of money. Even in this case, however, we recommend that you watch videos, look at images, and get proper visual information for replacing that subfloor. This is a fairly complex project, so it really helps if you can watch someone do it before the first attempt.
Even if you decide to work on your mobile home subflooring yourself, a professional should be at hand. If you can not get someone to supervise, at least have an experienced professional conduct the inspection and confirm what the flooring requires. A mobile home bathroom is the most susceptible to subfloor damage due to moisture, and its plumbing can be very complicated. So call in a professional today and start on your subfloor as soon as possible!