If you finally decide to downsize from site-built homes, which option should you choose between living in a tiny house or a mobile home? Both are similar and present unique living experiences, but how do you decide between the two?
Tiny homes are becoming more and more popular. Just to show you how the tiny house craze is taking off, more than half of Americans said they would be willing to live in a tiny house/tiny home of less than 600 square feet according to a 2018 National Home Builders Association survey.
Similarly, according to the Manufactured Housing Institute, manufactured homes house more than 17 million Americans. This number is expected to grow year after year due to the rising cost of acquiring traditional dwellings (price per square foot).
With all of this being said, it still begs the question: tiny house or manufactured home, which is right for you?
Tiny House vs. Manufactured Home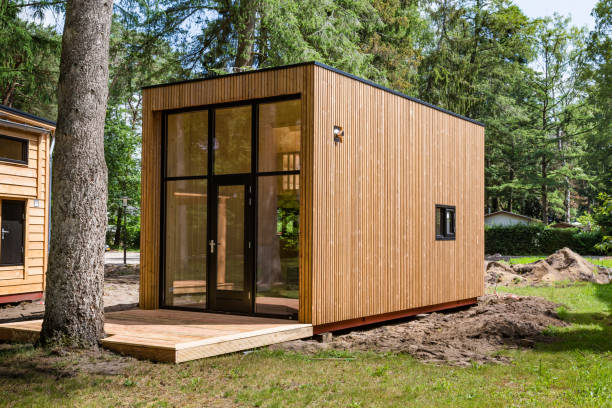 These two housing options have striking similarities. First, they are significantly more affordable than the average real estate homes. Second, they both offer breaks on taxes, which is a huge issue for stick-built homes. Lastly, they can be customized to suit your preferences.
Having said that, there are a number of differences between tiny homes and manufactured homes. So, before deciding which type of housing is ideal for you, consider analyzing the advantages and disadvantages of each option.
This article includes the pros and cons of both tiny houses and mobile homes in an effort to help you make the right decision for you and your needs.
Size
Size is one of the biggest differences between a tiny house/tiny home and a mobile home. For instance, a tiny house measures anywhere between 100-600 sq. ft. On the other hand, mobile homes can measure anywhere between 600-2,500 sq. ft.
This shows that mobile homes are a suitable option if you desire a larger floor plan, while tiny houses are a smart alternative if you want a self-sufficient dwelling.
Regulation
Generally speaking, manufactured housing is regulated under the HUD Code for manufactured homes, which was passed in 1976 in order to raise the standards for mobile homes (such as energy-efficiency, see energy-efficient manufactured homes). The manufactured homes of today are very different from the mobile homes (traditional RV) constructed before 1976.
Unlike mobile homes, however, tiny homes may be built without additional building codes compliance due to their small sizes. This gives you the freedom to be a lot more creative with these types of residences.
Mobility
As the name suggests, mobile homes are in fact mobile. Even though it can be time-consuming and costly to move your manufactured home, it is certainly doable.. Learn more about how much it costs to move your mobile home here.
On the contrary, tiny residences are fixed permanently to the ground, thus making them completely immobile. So, if you do need to move for whatever reason, you will need to go through the hassles of selling your tiny home.
Cost
The cost for tiny homes vary depending mainly on the size, materials, and land it sits on, among other factors. That said, you can buy a tiny home for as little as $10,000 or as high as over $150,000; but expect to pay around $60,000, on average.
On the other hand, mobile homes can cost as low as $25,000 for used mobile homes for sale or as high as $250,000 for new mobile homes (find out what is included when buying a new manufactured home here). The cost of mobile homes vary mainly with their size. For instance, the average cost of a new single-wide home is $40,000, whereas the cost of a new double-wide home is $90,000. Learn more about what is a double-wide manufactured home here.
Speed of Build
Manufactured homes are factory built within a controlled environment/assembly line. This means that the manufacturing of these homes are seamless and efficient. It could take only a few weeks before your home is complete. Learn more about how long it takes to build a manufactured home here.
In contrast, depending on who is building them, tiny homes could take less time or more time to construct. Many factors play a role in how long it takes to build a tiny home/tiny house, including the time it takes to design the home, inclement weather, and the speed of materials arriving. None of these factors have any effect on the speed of a mobile home being built.
Aesthetics
Aesthetically, mobile homes have less flexibility compared to tiny homes. Typically, mobile homes are single-story dwellings, come in the usual box shape design, and may feature a deck (here are some examples of deck designs for manufactured homes). Tiny homes, however, offer more flexibility in design; so you get more of a say on what your house will look like. These different design options can be in regards to shape, number of stories, and materials used, among other factors.
Tiny Houses for Families
Before settling with tiny houses/tiny homes, here is what you need to know about their advantages and disadvantages.
Pros
Clutter-Free
Generally, tiny houses offer less living space, meaning you have less storage spaces for your belongings. This pushes you and the family to be more organized and avoid clutter. This can also help you to keep a neat house due to not needing as much time to clean.
Environmental Sustainability
Tiny houses are eco-friendly because they require fewer resources to construct compared to other forms of housing, such as traditional real estate homes. It is also common to use solar panels with these homes due to their size.
Cons
Less Space/Tiny Home Living
One of the biggest disadvantages of tiny houses/tiny homes is living space. If you have a bigger family, a tiny house will not be an ideal choice. This element makes a tiny house a far less attractive option compared to mobile homes.
Completely Immobile
As stated earlier, if you need to abruptly move, tiny homes can not move with you, like mobile homes can.
Less Storage
You might not have as much storage space as you would want in a tiny house because it has less floor space. Living in a tiny house may require you to sell other household items or even purchase items that are specifically made for the space.
Single Bathroom
Since a tiny house has less living area, it could feature a single and smaller bathroom only. For families, this may be chaotic. That said, a tiny house could be ideal for individuals without families, such as a single person or young couple.
Mobile Homes for Families
Numerous factors, including affordability, contribute to the popularity of mobile homes. It does have certain drawbacks, though, so you should weigh the advantages and disadvantages of manufactured home living before making a purchase.
Pros
More Affordable
Mobile homes are typically less expensive than site-built homes (see our guide on mobile home vs. stick-built here). For instance, a traditional house could cost you as high as $300,000, while a used mobile home could cost you as little as $25,000 (learn how to find used mobile homes for sale here).
Larger Floor Plan
There are several sizes of mobile homes, including single-wide manufactured homes, double-wide manufactured homes, and even triple-wide manufactured homes, often known as multi-section homes.
Mobile homes tend to offer expanded living spaces, so if you desire additional space, you can buy a multi-section home and take advantage of more room just like in a typical home.
Community Living
Many mobile homes are located in mobile home parks, and most mobile home parks promote community living. Often, a community has several communal amenities on offer, such as clubhouses, fitness centers, and swimming pools. Also, it is typical for park management to organize events that bring the people living within the community closer. Checkout our list of top manufactured home communities in Michigan here.
In addition, most mobile home parks are closer to downtown areas, making them easier to access the city centers compared to traditional homes, which are commonly found in more suburban areas.
Offers Flexibility
Mobile homes are more flexible compared to site-built homes. Today, owning a mobile home makes moving easier since the home can go with you. However, if you live in a traditional real estate property, you will not be able to do that and may have to put your house on the market first.
Cons
Depreciation
Over time, the value of mobile homes are known to decrease because they are considered personal property. It is even more concerning that there can be an issue when reselling a mobile home. With that said, here are ways to increase the value of a manufactured home.
Non-Traditional Financing Options
Due to manufactured homes being considered personal property, you are unable to finance them using a traditional mortgage (unless it is permanently fixed to the land). This can sometimes make it more difficult to finance these dwellings. However, with the right information, it can be a lot easier than one might think. Learn how to finance a manufactured home here.
So, Which is Better: Tiny House vs. Mobile Home?
Weighing the above pros and cons, we can ultimately conclude that living in a mobile home is the better option. Mobile homes offer more advantages, such as larger floor plans, affordability (this could help you to achieve financial freedom), and community amenities.
Final Thought
Mobile homes and tiny homes are similar, but each offer different advantages as well. A tiny house/tiny home could be ideal for you if you prefer a smaller living space. However, if you want to enjoy more space and community amenities, among other things, a mobile home would be perfect. With the recent economic turmoil, mobile homes are expected to provide alternative housing options for many Americans.