Are you wondering how much it will cost you to move your manufactured home? If you are thinking you can easily do it by loading the home on the back of your truck and taking it off, you are sadly mistaken.
The moving of modern manufactured homes, also known as mobile homes, is very difficult and will require some professional experience. Once you have found the right crew of mobile home movers, however, then you can seamlessly move your mobile home from one place to another.
With this being said, moving these homes comes at a cost. So, how much will it cost you?
For your information, the actual costs might depend on whether you select a full–service move or transport–only move. It might also depend on the type of mobile home in question, such as whether it is a triple–wide, double–wide, or single–wide home.
Here, we help you understand how much it will cost you to move your mobile home.
How Much Does it Cost to Move a Manufactured Home?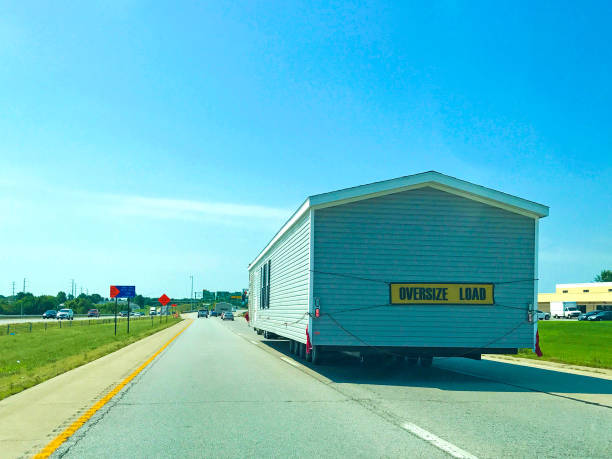 The cost of moving a mobile home depends on several factors. Let us consider them below:
The Cost of Moving a Mobile Home
As we have highlighted in the introduction, the cost to move a manufactured unit depends on the type of mobile home and whether you select full-service movers or transport-only movers. The distance you intend to move your mobile home will also affect moving costs.
A mobile home transport-only move involves attaching your mobile home to a vehicle, taking it to a new place, and unhooking it. In most cases, the mover offers liability insurance and necessary permits.
With full-service, you will get all the moving services that a transport-only service offers, plus the disconnection of skirting, utilities, and the attached structure, and later reconnecting them at your new location.
A transport–only move is likely to cost about $700-$3,500, depending on the size of your home and the distance. A full–service move, on the other hand, is more expensive and can cost between $3,000-$14,000. These costs vary depending on the previously listed factors.
For example, if you intend to move your mobile home at least 60 miles with a transport–only service, it will cost you about $2,600-$3,500 for triple–wide units, $2,000-$2,500 for double–wide units, and $700-$1,000 for single–wide units.
If you opt for a full–service move for 60 miles, you will spend $3,000-$5,000 for a single–wide home, $4,000-$10,000 for a double–wide mobile home, and $10,000-$14,000 for a triple–wide home.
The above costs are just estimates. The actual cost to move your home is also determined by other cost factors, such as moving materials, permits, local regulations & transportation fees, travel distance, set-up services, labor costs, mobile home size, location of the mobile home, among others.
The mobile home moving costs also increase with distances. Most moving companies typically charge an average of $4.00-$5.50/mile for towing vehicles and $1.50-$1.65/mile for pilot cars. Always feel free to approach any professional moving company and ask them for their rates.
Factors Affecting Mobile Home Moving Costs
The moving costs for a modular home vary depending on the move type. For your information, several factors affect the relocation of mobile homes. Let's look at them below:
Size of Your Mobile Home
The size of a mobile home has a major impact on the moving cost. Here, homes are classified as single-wides, double-wides, and triple-wides. Triple-wide homes are more expensive to move than single-wide or double-wide homes due to the amount of trucks and trips it takes.
Also, note that if your mobile home is too wide to drive through the streets, you might be forced to pay extra for a temporary road closure or police escort. Additionally, if your mobile home is taller, it'll cost more thanks to limited travel routes.
Inspection and Permits
When you decide to move your mobile home from one state or county to another, you will need to acquire a permit from the territory it goes through.
Fortunately, most movers are in a position to assist you in getting a permit easily. It may also be required to obtain a setup permit to place your mobile home in a different city.
Some states require a mandatory inspection of older manufactured homes. This guarantees that a mobile home or modular home are up-to-code (HUD Code for manufactured homes) and safe.
Mobile Home Weight
Most new mobile homes weigh about 45–50 lbs per square foot, while older ones weigh 35–40 lbs per square foot. This means a new home that is 700 square feet will weigh up to 35,000 lbs.
The heavier a mobile home is, the more moving materials and equipment the movers will require. This will inevitably translate into higher moving costs.
Move Distance
A shorter distance is cheaper than a longer one, plain and simple. Moving companies will require more gas to move a mobile home for longer distances. They will, therefore, transfer these costs to their customers.
Additionally, longer moves require new equipment and tires to handle the long distance. You should have prior planning and be sure to have enough money saved before moving your mobile home for a long distance.
Moving Materials
Moving a mobile home requires different materials, including tires, tools & supplies, along with tow hitches. A good mobile home moving company must break down the material costs involved in the contract because these material costs are typically part of the moving cost.
Liability and Insurance
When you use a professional mobile home mover, you will have to acquire liability coverage to facilitate the move. There is also an option of considering outside insurance.
If you already have mobile home insurance, ask your carrier whether or not they will cover your home while transporting it.
Set-Up Services
Expect to pay more if you wish to have a mover relocate your mobile home and complete the rest of the services in full. Apart from transportation fees, the mobile home mover will also ask for more money for setting up and taking apart your mobile home.
The services involved include reinstalling interior features, reinstalling porch and foundation, and reconnecting utilities. Such services might cost you $1,000-$5,000.
Even though mobile home movers might include set-up services in their best deal, they may expect you to remove the exterior features and mobile home's skirting. You can always store them in your self-storage unit until things are settled.
Home's Overall Condition and Age
If your mobile home has been around for over 10 years, there is a high chance it has sustained structural damage, possibly due to termites or water. This will weaken the home with time.
In some cases, such damage might be fixable. Therefore, the mobile home movers are forced to spend more time altering and fixing the home before transporting it. Without question, this will translate into more cost for the customer.
Why Hire Professional Movers to Help You Out?
Even though you can technically move a mobile home yourself, it is better if you hire a professional to help you out. Professionals have proper training and knowledge in installing mobile homes and moving large shipments.
You should also hire movers since they possess licenses to transport homes across states and cities. Even though hiring professionals is expensive, it presents the following benefits:
Moving Companies will Get the Relevant Moving Permits on Your Behalf
We all know it can be difficult to get permits. Fortunately, mobile home movers will get the necessary moving permits before the move day. This includes both state transportation permits and local installation permits.
You will Find Energy and Time for Other Things
Having a professional mover do the work for you saves you both energy and time. You will also be saved from unnecessary headaches while moving. Everything runs smoother from the beginning to the end with the proper help.
Moving Companies Drives Mobile Homes
If you have ever tried moving a large truck, you understand that it's no easy task. Dragging an oversized load behind your truck across states is even more difficult. However, professionals have experience with such tasks. They can help you move your home, even for long distances, with ease.
What to Do Before Moving a Mobile Home
Moving a mobile home can be easy if you approach it professionally. Below are things to keep in mind:
Research Moving Companies
There are so many mobile home moving companies on the market, so selecting the right one for you might not be a walk in the park. We recommend that you consider online reviews, ask for referrals, check the mover's insurance policy, and compare the quotes.
Provide Notice Where Required
Read the lease agreement again and give the mobile home park management a written notice within the allowed timelines. The timelines vary from one mobile home park to another.
Understand Your New Location's HUD Regulations
HUD is responsible for setting both safety and construction standards for mobile homes. For this reason, the HUD Code was developed in 1976.
The United States is divided into three wind zone ratings for mobile homes, depending on their susceptibility to natural disasters. If you decide to move between zones, make sure your home meets the requirements in your new zone.
Budget for Extra Things
If you have air conditioning units, they are likely to cost you more. Most mobile home moving companies will also have a separate fee for cleaning up your lot after your move. This is something you should ask about beforehand.
Prepare the New Location to Host Your Home
This is one important step that many people ignore. Before moving the mobile home, your new location should be ready to receive it. Clean the area and cut any trees, if possible. You should also level the ground.
Understand the Local Requirements
Some places have strict property age laws and building standards. Park rules, buildings codes, and other regulations depend on the type of mobile home community you are moving to. It is, therefore, critical to understand the legal requirements of the place you are moving to.
Take Over Certain Tasks to Reduce the Expenses
Even though we don't encourage DIY for the move itself, there are tasks that you can do to reduce the mobile home moving costs. For instance, you can carry your belongings in your van without professional help.
Be sure to talk to the mobile home moving company to see if there are easier tasks you can take on to reduce the transport costs.