Typically, manufactured homes sit 18" to 30" above the ground, with the stairs leading up to the door. With that said, the stairs alone frequently fall short of providing the home with the desired aesthetic appearance.
A deck is frequently an enticing spot to unwind with your family when the sun comes up. Often, a deck provides an additional outdoor living space, allowing you to leave the door open and go back and forth.
If done properly, a deck construction or addition to your home frequently enhances the appearance of the manufactured home (learn more about manufactured home living pros and cons here). Furthermore, decks and porch designs increase the value of your home when selling it. Checkout our guide to selling a manufactured home in Michigan here.
Deck Designs for Manufactured Homes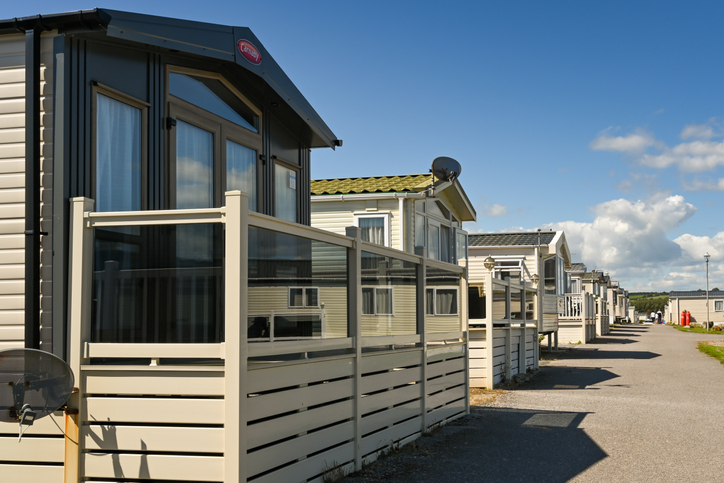 Site-built homes typically have a larger living area, along with costing an arm and a leg to purchase. On the other hand, the living area in mobile homes is smaller, but the good news is that expanding the living space by building a deck is quite inexpensive.
So, how can you find the ideal deck design/porch design that perfectly complements your house when there are so many available porch design variations? In this article, we will discuss the different types of porch designs that you can use to enhance the appearance of your manufactured home.
The Traditional Porch
Do you still have in mind the old-fashioned porch designs with stoops and wraparound? Of all porch types, the traditional porch (covered porch) is by far the most basic.
Generally speaking, traditional porch styling or porch designs are not subject to any specific rules. While thinking about porch ideas or deck ideas, consider a spot for an afternoon sleep; add a hammock, furniture, and a table, among other things, to make the area more attractive. Also, adding plants is a good way to improve the aesthetic of a porch.
Wrapped Deck or Porch
When it comes to mobile homes, this is among the common porch designs. Typically, it may be a covered porch (meaning it has a porch roof) that encircles a piece of the mobile home. It may be a screened-in porch or a regular porch, but it takes up a substantial portion of the home.
Screened–In Mobile Home Porch
Screened-in porch designs are also popular in the mobile housing industry. Generally, screened-in porch designs are perfect for places that experience high humidity to protect you from harsh weather conditions and mosquitos. You can enjoy outdoor living with a screened porch without being concerned about someone invading your space.
The Above Ground Pool Deck
Generally, the above ground pools are less expensive than an underground pool. If you have an above ground pool in your backyard, imagine a deck that wraps around it in your backyard.
This makes for a seamless transition from your inside life to your outdoor pool life.This is the aesthetic appeal an above-ground pool deck adds to your mobile home/manufactured home.
How Much Does it Cost to Add a Deck to a Mobile Home?
A mobile home deck will typically cost you between $5,000 and $10,000. Your deck's final cost will depend on its size. You can, for instance, anticipate paying anything between $23 and $110 per sq. ft., on average. Additionally, the cost of the material will range from $11 to $70 per square foot.
Are you going to have the roof or not? A manufactured home porch and a deck vary in that a porch has a roof, while a deck does not. Therefore, the price will significantly increase if you wish to install a roof. For example, adding or replacing porch columns will cost you $300 or $400 on average. Also, when constructing a mobile home/manufactured home porch, consider the type of roof you want: a pitched roof, flat roof, or a gable roof?
Another factor that can dramatically increase the expense of constructing a manufactured home porch is labor. For example, labor will cost you anywhere between $11 to $40 per sq. ft. That said, you have a better chance of saving money if you can do it yourself (DIY).
So, you might want to perform the groundwork yourself, including tearing down the entire porch (outdated one), if need be, and clearing the debris from the area to make room for the new building. By doing this, you will pay less for labor overall.
Can You Buy Pre–Built Decks?
Yes, you can buy a pre-built deck for your mobile home/manufactured home. Find a reliable pre-built deck dealer and get a customized deck for your home. The good news is the building process for most dealers can be completed within a day. Checkout our list of top 10 mobile home dealers in Michigan here.
Having said that, if you have a specific design in mind and want to make it a reality, a dealer will assist you in breaking everything down from the beginning and constructing the required deck out of a range of woods.
By adding a deck, you can increase the speed at which your property sells, as well as boost the popularity of your backyard as a destination for social gatherings.
What is the Ideal Deck Size?
According to several builders, a manufactured home porch should not occupy more than 20% of the total square footage of your house. It is important to keep in mind that this is only a suggestion and not a rule. Your choice to exceed that number is entirely up to you.
Keep Your Local Code and Regulations in Mind
Just like site-built homes, mobile homes are subject to local building codes. So, before you start any building project, make sure the planning complies with the local building guidelines. For example, many local codes or ordinances require that all the mobile home porches that are high off the ground to have railings. Adding railing to mobile home porches also increases the cost of building the deck.
Tips for any Mobile Home Curb Appeal Project
You must be aware that site-built homes and mobile homes have different governing laws when it comes to curb appeal projects. That said, here are tips you need to know before beginning your renovation or manufactured home porch construction.
Understand What You Own: The Parts You are Responsible for
Placing a mobile home in a park makes it clear that you are leasing the land and are, therefore, paying a lot rent rather than owning it (learn what is the lot rent for a mobile home park here). That said, mobile home parks often have rules and regulations that govern the community. For instance, the extent of the changes you can make to your mobile home may be limited.
In site-built homes, you have the freedom to make any kind of changes so long as it complies with the local building guidelines. However, when it comes to mobile homes, you and the park manager each have a specific role. You might discover that even landscaping is the park manager's responsibility rather than your own (learn about manufactured home maintenance tips all homeowners must know here).
So, before you begin your project, consider understanding your role as a resident in the community.
Ask for Permission Before Doing any Renovations
The landlord or management company sets the rules for what you can and cannot do if you rent the land rather than own it (learn the benefits of a mobile home land-lease community here). The interior and exterior of the mobile home may both be off limits for further changes.
That said, before starting any of your home enhancement projects, the majority of mobile home communities demand that you submit a request for authorization. You should not worry about receiving clearance as long as you adhere to the community's rules.
The majority of mobile home parks include rules governing things like interior architectural changes, in-ground landscaping, and painting, among other things (Need help maintaining a manufactured home? Read up on our tips here).
When Planning for Curb Appeal, Keep Everything in Mind
Typically, mobile homes and site-built homes have different positioning (checkout our guide on mobile home vs. stick-built). For instance, mobile homes often have their entrances on the side, unlike site-built homes. So, you must think about a strategy that takes the whole home into account.
DIY vs. Working with a Contractor
Are you going to work with a contractor or DIY? No matter if you work with a contractor or not, mobile home porch designs require careful planning (whether it is your front porch or backyard porch).
You must make such decisions as soon as possible because they affect the price of improving your home's attractiveness. Having said that, hiring a contractor will cost you some money, but doing it yourself may be more of a hassle.
Keep in mind that splitting tasks can save you money that you would otherwise spend on labor, even though you might not be able to complete the entire project on your own. Decide which types of jobs, like tearing down an old deck or clearing the site of the debris before new construction, you can complete on your own without the help of a contractor.
Final Thought
When it comes to manufactured home porch designs, there are many alternatives. All you have to do is conduct an attempt to explore the kind of alternative that best fits your preferences.
If you want an above-ground pool deck, a wraparound deck, or a screened-in porch, find out how much they will cost overall and whether their price falls within your means.