Manufactured homes have been the best alternatives for Boomers seeking to downsize, as well as Millenials struggling with student loans.
Thanks to their low maintenance, affordability, and customization options, many people prefer manufactured homes compared to traditional homes.
Even though people are now choosing manufactured and modular homes, homebuyers need to concentrate more on certain factors before buying a manufactured home. For instance, maintenance considerations, choice of land, and mortgages for manufactured or modular homes differ from traditional homes.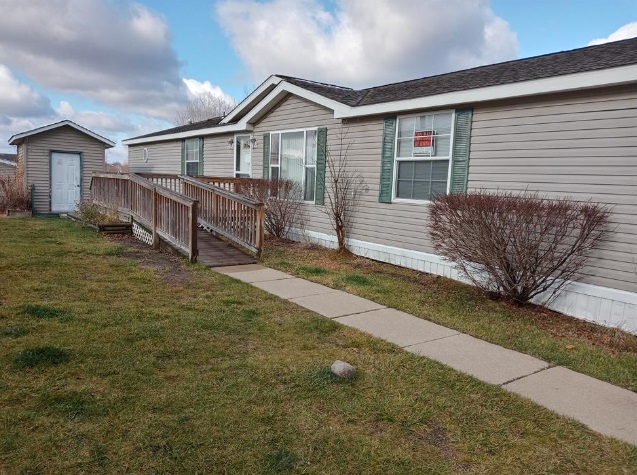 This guide explores all the information you need to make an informed manufactured home buying decision, as far as the manufactured housing industry is concerned.
Process of Buying a Manufactured Home
Even before we consider the process of buying a manufactured home, let's look at what it involves.
Manufactured Home
A manufactured home is a prefabricated unit developed in a factory and later moved to its final destination. It's different from a mobile home, because manufactured homes are built after 1976 and their construction is regulated by the government.
They're a modern development of mobile homes, and the HUD code mandates their development. You can either place these homes on either a permanent or temporary foundation.
Manufactured homes have acquired better designs and amenities compared to mobile homes. For instance, they are designed with a better floor plan and roofing options.
They have acquired better amenities and features thanks to the various regulations implemented in the manufactured housing industry after 1976.
Buying a Manufactured Home
There is a big difference between buying a townhouse or a single-family home and financing a manufactured home. Lenders consider a manufactured home, which is considered personal property, compared to a townhouse, which is a real estate property.
Historically, manufactured and modular home loans worked like car loans and required a higher down payment, higher credit score, and higher interest rates.
However, the lender's view on assisting homebuyers in financing their manufactured homes is slowly changing. The homes are nowadays designed and developed with high quality features that makes them more durable.
Some of the available financing options for manufactured homes include VA loans and HUD-backed FHA loans. There are home manufacturers and banks that provide traditional mortgages and chattel loans to home buyers.
You need to understand that the condition of a property can highly affect manufactured home financing. The chances of a home buyer getting lower interest rates and a traditional mortgage increases if they own the land, invest in a high-quality home, and fix the home on a permanent foundation.
Land
Mobile home developers understand that people want to live in a beautiful and comfortable space and provide upgrades and luxurious fixtures such as hardwood floors and granite counters.
With that being said, before you buy a manufactured home, you need to have a foundation and land since the manufacturers won't sell you the home with land. Homeowners can either place the home on their own private land or on leased land in a manufactured home community.
Settling in a manufactured home park offers homeowners a vibrant community with quality amenities. If you decide on renting the land to which your home is placed, you'll lower the initial down payment of your home. However, it might be difficult to secure a traditional mortgage this way.
Buying land for your manufactured home costs more upfront and requires that you do extensive research into the zoning laws and local deed restrictions. However, owning the land can help you to secure a mortgage and get lower interest rates.
When you own the land, you become immune to the depreciation of the mobile home. The manufactured home value increases as the land appreciates.
Before you buy a manufactured home, you need to understand deed restrictions and local zoning laws.
Manufactured Home Maintenance
Just like with a site-built home, manufactured homes also require care and tender love to ensure they're durable and safe. After placing the home on the foundation, you should inspect it regularly for leaks and rust.
You also need to retouch windows and all caulking around vents. Check the foundation at least once per year and apply a durable roof coating. To keep the mobile home clean and comfortable, you should regularly clean HVAC systems, gutters, siding, and interiors.
Manufactured Home Designing
The design of modular and manufactured homes has greatly improved since 1976. The exteriors of these homes can match any style, from cool coastal retreats, to cozy log cabins, to even traditional ranch homes.
Inside these homes, homeowners have the freedom to design everything the way they want, including their preferred floor plan. They can choose to have master bathrooms and spacious bedrooms or open kitchens, depending on their preferences.
The homes allow homeowners to express themselves through decor and design. The manufacturers understand that most people want to stay in beautiful and comfortable spaces and, therefore, provide luxurious upgrades and fixtures, such as hardwood floors and granite counters.
Since manufactured home floor plans are developed to maximize spaces, you don't have to sacrifice any furniture you love.
If you want to get the best designed mobile home, you need to do thorough research to ensure you invest in something you'll feel comfortable in. Homeownership becomes easier if you understand how to maintain, invest in, and shop for a mobile home.
Buying a Manufactured Home
If you seek to buy a manufactured home successfully, follow the steps below:
Do Research
When you're seeking to purchase a manufactured home, the internet should be your first stop. It can help you get a better sense of the available home types.
You need to start by searching for dealerships and manufacturers near you with a history of delivering quality work promptly. Most sellers deliver mobile homes within a limited geographic area.
After identifying several brands within your area, look at their websites to understand more about the services they provide and the lines they offer. You're unlikely to find clear pricing information during your search because sellers keep such information to themselves to get an advantage over buyers during the process.
You can get assistance from pricing information sources, such as MHA (Manufactured Housing Advisory) sponsored by HUD (Department of Housing and Urban Development).
The factors that affect the average price of a mobile home include location, finishes, add-ons, brand, and size.
Assess Finances
After getting a clear idea of manufactured home pricing, the next step is to assess your finances. You need to look at your income, as well as your annual, monthly, and weekly expenses.
Evaluate the total amount of money in your accessible accounts, such as money market accounts and savings accounts. Ensure you're comfortable with your retirement and investment accounts too.
Regardless of how you're going to finance your mobile home, it would help to get copies of the relevant financial documents, including W-2s and account statements. You'll need these documents later.
Consider Locations
When planning to purchase a manufactured home, you need to consider the location.
Why would the location be so critical? It can limit your options regarding manufactured homes.
Below are options for locating your home:
Own Land
You need to understand that some areas don't allow manufactured homes, while others have specific restrictions. For instance, you might be allowed to own a double-wide home resembling a stick-built home, while a single-wide home might be banned.
If you aren't sure where to start, you can check your planned community, neighborhood association, or local zoning office.
Buying Property
If you plan to purchase property separately from the mobile home, you should target your search to locations that allow manufactured home types that you intend to purchase.
To get the best deal, approach a buyer's agent with a reputation of helping homebuyers purchase land for different uses. This is also the perfect time to approach lenders.
Lease Land
There are many manufactured housing communities, otherwise known as mobile home parks, that you can lease land  from and place your home. They range from resort-like communities, having clubhouses and pools, to bare-bones lots with your standard utility hookups.
You need to tour the manufactured home communities to see the available amenities and lots. It would help to ask about any possible restrictions in your mobile home community of choice.
Shop for a Home
Manufactured and modular homes have some things in common.
They're space-efficient since they have to be transported from the factory to their final location via highways or roads, either in multiple parts or one piece. They come with a bathroom, sleeping area, and cooking facilities.
Another essential factor is that manufactured homes must comply with HUD codes by law. It means that all models must meet standards for quality and safety.
You need to understand that manufactured homes vary widely by appearance, layout, manufacturer, and age. The search for a mobile home comes down to your budget and personal preference.
With that said, before you purchase a manufactured home, there are decisions you'll have to make:
New or Used
Even though a new home is more appealing, you'll save more money if you purchase a used home. However, many manufactured home parks and communities won't allow you to bring in a used home. It might also be difficult to finance a used home.
Where to Buy
If you have decided to buy a used manufactured home, you can approach a real estate agent or seller. For a new manufactured home, you'll have to do thorough research and narrow down your options.
You can purchase a new manufactured home through a dealership or a manufactured home community.
Double or Single
A single-wide manufactured unit is developed and moved to the final location as a single unit. It's difficult to secure a home loan on single-wide units.
Double-wide units are transported to their final location in two halves. The homes provide more layout possibilities and come with a more similar appearance to stick-built homes. With these, it's easier to find a floor plan of your choosing.
With that said, double–wide units cost 1.9 times the price of single–wide units, on average.
Customize
When you purchase a new manufactured home, you'll be presented with plenty of options.
You can select the layout of the rooms, the model you want, your preferred floor plans, and finishes, such as lighting and flooring.
However, you'll have to pay for everything that you add.
Obtaining Financing
The average price of a manufactured home in the United States is about $85,438. They are, therefore, affordable compared to other home options.
There are several approaches to paying or obtaining financing for your manufactured home:
Cash
The advantage of paying with cash is that you won't incur interest on the home purchase.
Chattel Home Loan Programs
Manufactured homes are considered personal property. You can, therefore, finance them using chattel loans, which have a higher interest rate compared to traditional mortgages. You're free to find your lender.
Obtaining financing can be easier if you have a good credit score.
Mortgage
For a manufactured home, it's difficult to get a conventional mortgage.
For you to qualify for a mortgage, you should be the actual owner of the lot. You can also access a FHA Title I loan.
Try to select loan programs that offer a lower interest rate.
Wait
If you have already selected a manufactured home, and the site to install it, the next step is to plan delivery and installation.
The construction of new homes can vary depending on the manufacturer and type of home. Some manufacturers can develop a home within two days, while others can even take a week or more.
For a custom-built home, you should expect delivery within 2-4 months. Before the home is delivered, ensure you develop the site and foundation properly.
Install the Home
Your home is built on a chassis with wheels. When the time for delivery comes, it's towed like trailers.
After the manufactured home arrives at its final destination, the wheels and axles are removed. The parts of the manufactured unit are then attached, hooked, and anchored up to the utilities.
Finally, you can add extras, such as skirting, porches, stairs, and other external features.
Move-In
At this point, the manufactured home now belongs to you, and you can bring in your belongings. Here, you can hire a moving company, do it yourself, or bring in your friends to help you.
You can take time to know your neighbors and understand your new community. Don't forget to set aside some time for relaxing and enjoying your new location.
Even though buying a manufactured home can be intimidating at times, the above steps can help you get a reliable home easily. You can get comfortable with the process by touring some manufactured homes and conversing with the sellers.
Once you know the available price ranges, it becomes easier to find the capital for purchasing a manufactured home.
Conclusion
As we have seen, buying a manufactured home is a complex process that can become easy if you follow the right steps.
There are certain things you need to put in mind before selecting the right manufactured home to purchase. For instance, you need to consider the manufacturer, the land where the home will be located, the age of the home, floor plans, and design options.
You should also understand that there are several manufactured home financing options that you can consider. To get a traditional mortgage for your manufactured home, however, you need to place it on a permanent foundation.
Always make the right purchasing decision if you want to land quality and durable manufactured homes.