Manufactured home communities are rising in popularity and becoming more common.
The good news is that manufactured home communities also seem to improve more every year and the perks you can benefit from are astounding. Simply put, manufactured home communities have a lot to offer.
Sure, a manufactured home park may have some significant drawbacks, but the overall benefits are also essential to consider.
This can help you decide if a manufactured home is the route you want to take for your dream home over a traditional family home (see: mobile home vs. stick-built).
This discussion will cover the advantages and disadvantages of living in a manufactured home park. We will cover everything we believe you should know and understand about a manufactured home park to give you the best information possible to make an informed decision.
Let's start with some basics by covering what a manufactured home park is and what you can expect.
Living in a Manufactured Home Park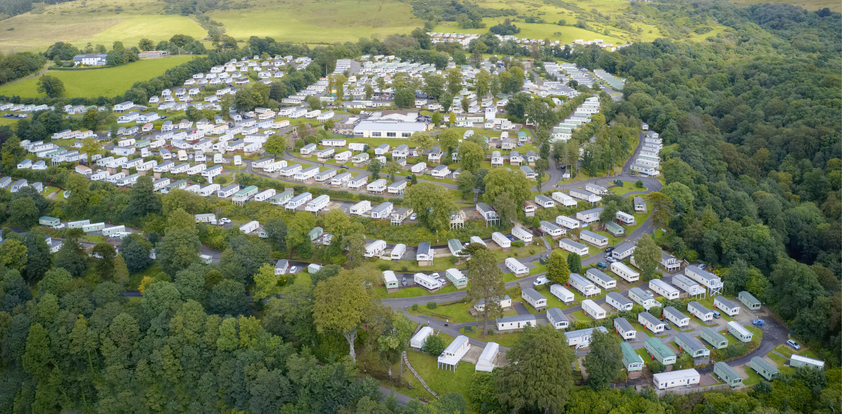 A manufactured home community or manufactured home park can be defined as a community setting that accommodates numerous manufactured homes.
The homes within the community or park are typically rented, purchased, or leased, and located within one development or site.
The primary difference in the homes themselves is in the construction process. Checkout how double-wide mobile homes are built here.
Manufactured homes are built at a location and then brought to the development site. This is different from traditional family homes, which are built from the ground up right at the selected location.
One of the most important things to understand about manufactured home parks is that the land is often leased.
Manufactured Home Parks and Communities Vary
Several different types of manufactured home parks are available, but leased land is their typical structure.
Most manufactured home parks are used specifically under a leased-land agreement, however a few manufactured home parks are operated and owned solely by the residents.
Additionally, you have manufactured home communities that specifically cater to the senior demographic and are designed to appeal more to individuals on fixed incomes.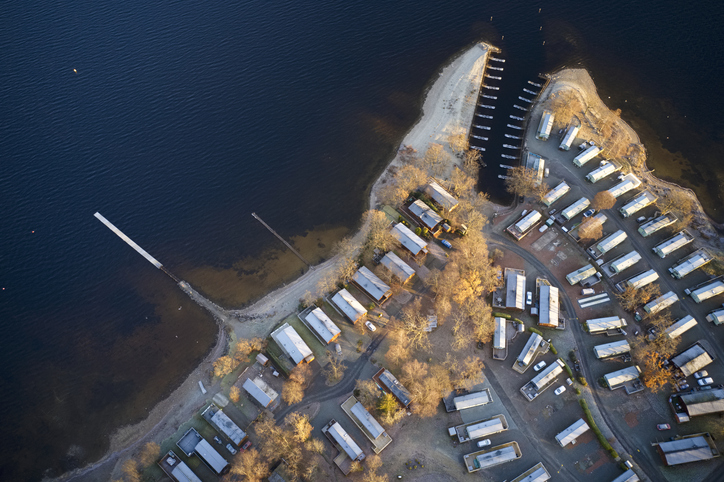 Much like traditional family home neighborhoods and communities, some manufactured home parks are of the high-end regarding finishes and price. Others are more affordable, with fewer options available to the buyers.
The lower end manufactured home communities/manufactured home parks are typically going to offer more affordable prices.
Clearly, for the vast majority, this presents many options for an individual considering purchasing a manufactured home and moving into a manufactured home community. Checkout the advantages to buying a mobile home vs. renting here.
Leasing Lots in Manufactured Home Parks Can Be Sensible
When individuals decide to purchase a manufactured home, sometimes leasing a lot is the only financial option that makes sense for the situation.
It comes down to a budget play at this point and is often cheaper vs. owning the land.
However, in a manufactured home park where you opt to do this, you do run the risk of not having a fixed lease price like a mortgage. So, leasing the land in a manufactured home park runs the risk of annual rent increases.
Clearly, rent increases are not desirable. Especially when you factor in that they may come at undesirable times, such as when inflation generally is on the rise.
Rent increases would happen at the discretion of the property owner or the park owners who have decided to buy mobile home parks as investment vehicles. It is not uncommon for owners to lease land and develop mobile home parks, especially private equity firms.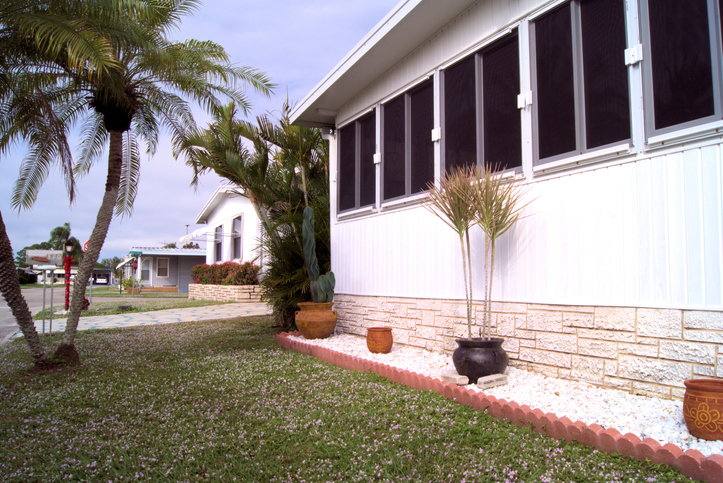 While rent increases may not happen every year, it wouldn't be a safe bet to try and predict when rent increases may occur.
This can make the affordable housing option of purchasing a manufactured home in a manufactured home park with leased land less appealing than you may believe. With that said, there are many perks that come with a land-lease community, which we will go into more detail on here.
Property Taxes for Leased Land will Fall on the Mobile Home Park Owner
When it comes to mobile home living, you still have factors to consider as mobile homeowners that can make an impact financially.
One of them that is important to note is that if you opt to go for leased land in a mobile home park or mobile home community, you will not be responsible for the property taxes.
This is due to leasing the land as opposed to owning the land, so the expenses for the property taxes at this point would fall on the mobile home park owners.
This can be a positive for the financial side of things. Just keep in mind the discussion we had about potential annual lot rent increases previously.
Other Factors to Consider
We have discussed some potential options with mobile homes and mobile home parks that will be presented to you during the purchasing phase.
However, we still have several essential items to cover about mobile home parks that are imperative to understand.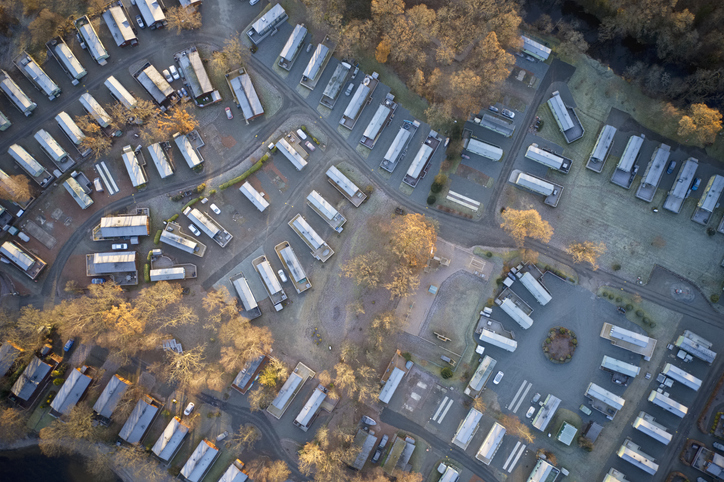 A mobile home is a significant purchase with a median sales price of $123,000, so, ideally, you should understand as much as possible about mobile home parks and what they can offer.
Let's start with some significant advantages of living in a mobile home park.
Budget-Friendly
In general, mobile homes and mobile home parks are attractive to buyers because they offer a budget-friendly way to get into a home with adequate square footage and great living.
Although we live in a time of high inflation, mobile homes are beginning to offer more options than ever when it comes to finishes, the number of bedrooms, and even the yard size. This is all at a lower price than you would expect to pay for a traditional family home.
Mobile homes and living within a mobile park is an excellent option for affordable living and can be financed in some situations using FHA (Federal Housing Administration) loans. This is something some traditional home buyers take advantage of, when transitioning into manufactured housing, during the financing process.
Not to mention, typically, if you live in a mobile home on leased land, as we discussed previously, you will often enjoy the more affordable cost of other items, such as water, trash pickup, and recycling pick up.
Maintenance is Minimal
Another great thing about choosing to live in a mobile home park is that in many situations, maintenance-related issues will be covered by the mobile home park owners.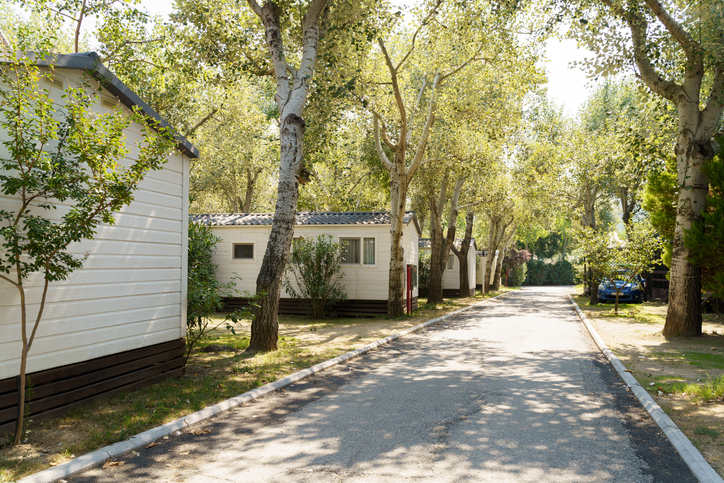 While you may be responsible for some small yard maintenance, other items around the mobile home park will be taken care of by the mobile home park owners.
Great Locations
Location is always a critical consideration for individuals before making a home purchase for a traditional stick-built. The same can be said for individuals looking to move into a mobile home park.
Often, mobile home parks are in ideal areas. Not only do a lot of mobile home parks sit near beautiful scenery such as ponds or mature trees, but mobile parks are also often located near major cities and within a reasonable distance of most local amenities.
This can be a huge plus to consider for those who enjoy the best restaurants and the rest of the communities in nearby cities have to offer.
No Neighbors Below or Above You
Clearly, this is not something you would deal with purchasing a traditional family home.
For those who may be considering an apartment, this could be not very pleasant and something you may want to consider avoiding.
While mobile home parks are not going to provide huge yards by any stretch, you can undoubtedly enjoy mobile home parks providing no neighbors that are directly above or below you to worry about.
You have your own mobile home to worry about, along with the people in it, and that is it.
Likely No Property Taxes
We touched on this previously for a moment, but it is a significant factor to consider. No property taxes each year can be a considerable saving.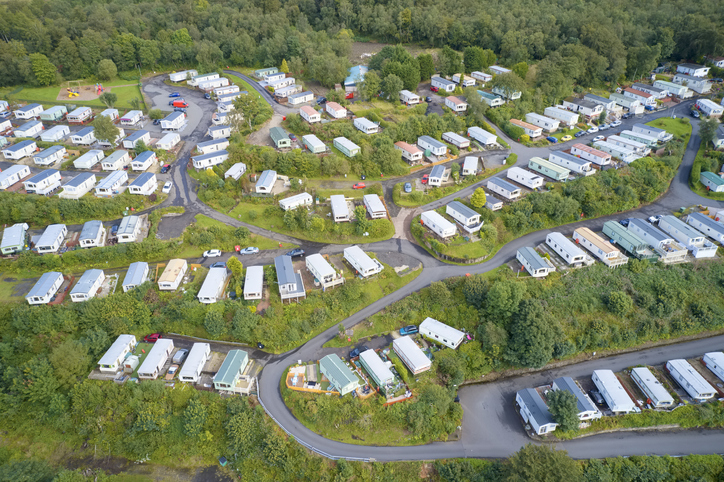 While it is typically only an advantage when leasing land or the lot your mobile home rests on, it is still a significant benefit.
Just keep in mind that this does typically come at the cost of annual rent increases.
Rules within the Mobile Home Park
Most of the time, when you are ready to make a purchase like a mobile home, you have reached a point in life where rules within the community or mobile home park are welcome.
Mobile home parks can be desirable due to rules that are enforced within. Things like no nuisance music after certain hours is a typical rule you would find within a mobile home community.
This is probably heavily welcomed by anyone moving from an apartment complex.
Other Mobile Home Park Perks to Enjoy
When it comes to the benefits mobile home parks offer, we have barely scratched the surface. We have not even included what some mobile home parks may offer in the form of amenities or perks.
For example, many mobile home parks offer community pools, community fitness facilities, and events you can attend with the entire family.
Mobile Home Park Friendships
Another perk that many search for when deciding if they want to live in a mobile home park is something simple in nature, but important to everyone; community and friendship.
Mobile home communities often have age restrictions or appeal/market to select demographics, such as seniors, as we discussed earlier.
This creates a community and environment that takes a lot of similar individuals in age and lifestyle and places them together.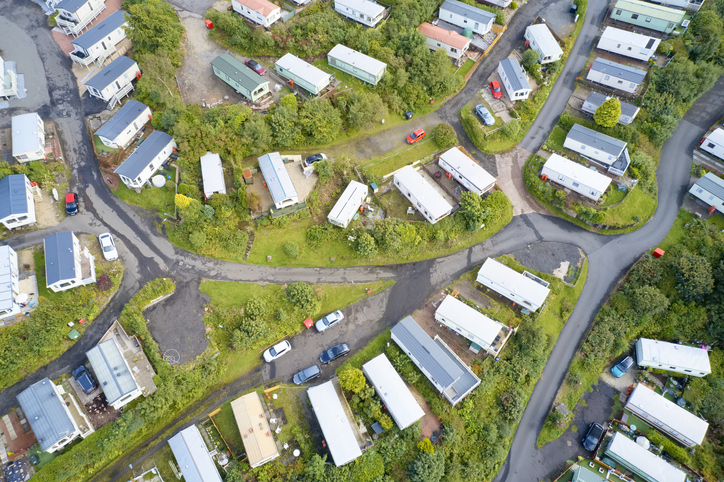 Many individuals currently living in a mobile home park would probably rank the community atmosphere and the friendships formed as the best perks you can gain from living in a mobile home park.
This also creates an environment when you form friendships within the mobile home park that give you a sense of safety, security, and peace of mind with your living situation and the location of your new manufactured home.
Upgrades are Possible
Many individuals believe that a mobile home does not have the ability to upgrade or allow for some of the finishes you prefer. This is not true!
Mobile homes now offer a lot of upgrades that are possible, including high-end finishes.
Even if you are leasing land, if you opt to purchase a manufactured home, you can even customize it to be built based on your desires.
When you do this, you can feel safe knowing that the manufactured home is being built to the standard of the Manufactured Housing Commission and HUD Code for manufactured homes.
Do not hesitate to purchase a mobile home or live in a mobile home park because you feel you don't have options or can't have any customizations. You certainly can, and the options are usually limitless, assuming you are not renting a mobile home.
Talking with the mobile home park owners or another professional about your options would be your best bet to ensure you go through the proper process and get exactly what you want.
The Takeaway: Mobile Home Parks are a Great Option
As we stated at the beginning, manufactured housing is rising in popularity. This can be attributed to the fact that manufactured housing is becoming more customizable, and manufactured housing communities are beginning to appeal to many homebuyers.
Manufactured housing and owning a mobile home also has a lot of important considerations that all homebuyers should be aware of.
The manufactured housing industry is booming right now, with more than 17 million individuals in America currently living in mobile homes. Understanding the ins and outs and pros and cons of mobile home parks is essential to your decision-making process.
Mobile home parks clearly offer many advantages; but if you go into the process unaware or uneducated, you may get into a situation you did not intend to.
Our goal is to help you avoid these situations and inform you about everything that is imperative in order to fully understand mobile home parks.
We are always here to help current Michigan mobile home residents or help you become a Michigan mobile home resident if you are considering purchasing or moving soon.
If you are in the market for a mobile home or still searching for a Michigan house, we welcome you to check out what we have available in our manufactured home park: Tyrone Woods Manufactured Home Community.