If you don't know what double-wide mobile homes are, they are prefabricated homes developed in factories and involve two similarly sized sections of single-wide manufactured home units. For your information, these homes have a variety of amenities and a range of floor plans that are comparable to stick-built homes.
You might be wondering, is it bad living in a double-wide mobile home? Here, we'll explore the pros and cons of living in a mobile home and help you decide whether it's the best option for you.
Pros and Cons of a Double-Wide
Is it Bad to Live in Double-Wide Units?
Even though living in a double-wide unit isn't bad, it presents several pros and cons. Generally, apart from living in mobile homes presenting high financial savings, it's just another lifestyle that might be either perfect for you or not.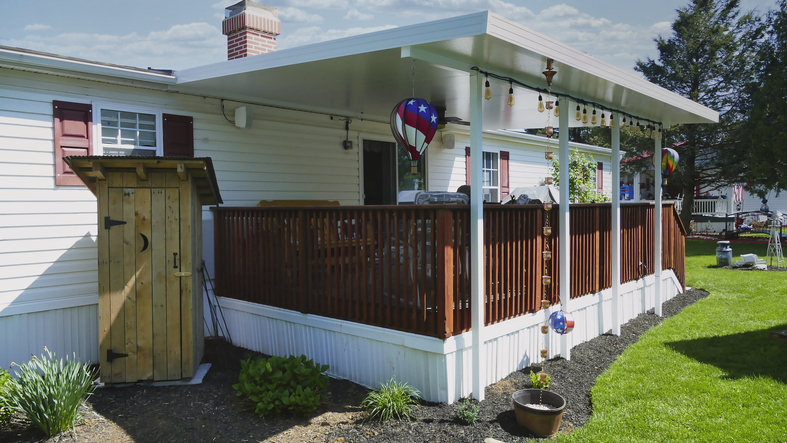 A standard double–wide mobile home is about 48–90 feet in length and 20–28 feet in width. These mobile homes are transported to their site in two separate units. The two manufactured home units are then assembled at the site.
Double-wide mobile homes offer plenty of space for large families and are a great way of saving money.
These homes are bigger than a single-wide mobile home, which ranges about the same feet in length, but are anywhere from 12 to 18 feet in width. With that being said, a single-wide manufactured home is easier to move.
Pros of Double-Wide Manufactured Homes
Affordability
If there is one reason why people love double-wide mobile homes, it's the fact that these homes are highly affordable compared to stick-built homes. This can be attributed to how mobile homes are built in comparison to site-built homes.
Double-wide mobile homes are developed in factories where materials are sourced cheaply. For this reason, these homes have been considered the largest source of non-subsidized housing in the country.
The median price of a double–wide mobile home is $49 per square foot, compared to almost $107 per square foot for a site–built home. It is, therefore, about three times cheaper.
Fast Construction Process
Double-wide mobile homes have a faster construction process compared to traditional homes. It can take between 65 to 75 days for a mobile home to be ready. You can even find a manufacturing company that can accomplish the task in fewer days.
These homes also have a quicker utility hookup and final installation process, on top of the fast construction. No matter if you buy a manufactured home to put on your own property or you buy a mobile home already in a community, you'll be surprised at how fast you'll start to enjoy your new lifestyle.
Eco-Friendly and Energy-Efficient
Are manufactured homes energy-efficient? Absolutely, and they are environmentally conscious. The HUD Code for manufactured homes is there to ensure that all manufactured homes have a high degree of energy-efficiency in the manufactured housing industry. This includes upgraded insulation in the walls, energy-efficient windows, on-demand water heaters, and insulated skirting.
Today, almost all manufactured homes are Energy Star certified. Additionally, bathrooms and state-of-the-art kitchens are designed with water-saving faucets and energy-saving appliances. Buyers can also go for energy-efficient lighting if they so choose.
In fact, modern manufactured homes are 25% more efficient than they used to be. The idea of having an eco-friendly and energy-saving home option for buyers is always a great one.
Customization Option
Whether you dream of having a retirement 'castle' or a perfect first home, the customization options for a mobile home are almost limitless. Some manufacturers even have more than 100 plans that you can select from so you can make your dream of mobile home ownership, and your own specific housing goals, come true.
These homes allow you to modify the roofline or exterior style for the finished design to fit your desires. You can also design a bathroom that pampers your spirit, a kitchen that's appealing to your inner chef, and built-ins which guarantee that every aspect of your life is pleasant.
You can also pick a floor plan that makes sense to the way you want to live. While double-wide mobile homes allow you to select your layout options, many site-built construction units restrict you to the developer's floor plans.
There are also options to choose materials, extra fixtures, and the colors you want.
Double-Wide Homes are Versatile
Double-wide manufactured housing also presents some long-term options. Since the homes are highly affordable, people who have a big site can start small and later add more modules, as their needs adjust.
A double-wide mobile home can also serve as a starter home for those who plan on developing a permanent and larger structure in the future. They can then rent the original home or use it for another purpose on the compound.
Another option is that you can move your double-wide mobile home to another site if the current location isn't a long-term option. This happens in most cases when the initial site is in a land-lease community.
Low-Risk Construction
Most construction sites are usually affected by problems, such as delivery delays, theft, and damage. With double-wide manufactured homes, such problems are always minimal. You will, therefore, save both money and time.
Low-risk construction presents a winning scenario for both the buyer and manufacturer. For instance, the manufacturer experiences minimal construction waste, along with less disappearance and misuse of materials.
The resulting efficiency contributes highly to a reduced average price of manufactured homes when compared to other types of homes such as a stick-built home, thus the person buying a mobile home wins too.
Cons of Double-Wide Manufactured Homes
Depreciation
One major disadvantage you're likely to encounter is a depreciation in the home's value. Just like a car depreciates when it leaves the lot, the value of a mobile home also reduces when it leaves a factory.
Unlike a site-built home, manufactured homes don't come part and parcel with your own land. If you're buying a mobile home on a piece of land, its value may go up, but that can't be attributed to the mobile home itself.
The depreciation can be associated with the category that mobile homes fall under, as far as property types are concerned. While site-built homes fall under the real property category, site-built homes fall under the personal property category.
Personal property can be removed from the land, while real property is fixed on the land. Generally, personal property depreciates while real property increases in value over time.
Harder to Resell
Selling a manufactured home second-hand can be difficult, especially if you set it up in mobile home parks. It also becomes hard when the buyer wishes to move the home from where it's currently located, mainly due to the cost to move a mobile home.
In such a case, both the seller and the buyer incur extra costs in the thousands. For this reason, most people prefer buying a stick-built home.
Damage
Even though mobile homes have improved greatly when it comes to being resistant to natural disasters, like tornadoes and hurricanes, these homes aren't nearly as strong compared to site-built homes.
The anchoring requirements for these homes don't offer the stability you'll find in site-built units. This makes them more exposed to damage compared to a traditional home.
With that said, they are improving, and we expect their structural and stability designs to keep improving with time. In fact, don't be surprised to find some homes having a concrete foundation.
Difficult to Finance
As we previously mentioned, double-wide manufactured homes are considered personal property and not real property. As we have seen, real properties are those attached to an asset, such as your own home on your own land. It's, therefore, more difficult to finance a manufactured housing unit than site-built homes.
If you manage to get a personal property loan for a mobile home, you should expect shorter terms and higher interest rates. For instance, while the interest rate for real property (mortgage loan) in 2018 was around 3.2% for a 30-year term, personal property loans attracted an interest rate of 3.99%, with a 7-year term, during that same time. Also expect a higher down payment to be required.
With that said, some lenders now offer prefabricated home loans with a 30-year term. This makes the manufactured home financing easier.
Tough Trailer Park Policies
This disadvantage will depend on whether or not your manufactured home is in a mobile home park.
Even if you decide on buying a mobile home with your own money, but it's in a manufactured home community on leased land, you'll have a landlord. This means you will still be restricted to someone else's procedures, schedule, rules, and will have to pay rent for the leased land, even though you own the home.
If you wish to sell a home that is in a manufactured home park, it becomes difficult. To make matters even worse, you'll get less for homes if they are in mobile home parks, especially if the buyers are looking to move it.
It's, therefore, critical to understand the policies for different manufactured home communities.
Limited Design Options
Since double-wide mobile homes are produced in mass quantities, they have limited design options. A stick-built house, on the other hand, has several design options.
Remember, you can incorporate your personal touch through painting or remodeling, for the case of a stick-built home. Mobile homes are, however, difficult to give a unique feel.
With that said, the limited design options are also responsible for the low cost that is experienced in mobile homes. It's common knowledge that a mobile home is more affordable when compared to a site-built home, thus, presenting a cost-effective alternative.