When you have just graduated and are starting out in your career, there probably is not much need for a large living space in Fenton, MI. Once you have established yourself a bit and are thinking of settling down, it is the perfect time to look for your dream home.
Not only does this mean a little more space to accommodate a partner, pets, and even kids, but it is a place to call your own. This is where you will put down roots, make memories, and generally enjoy life in Fenton, MI.
The Main Issues with Getting a New Home
Of course, finding your dream home in Fenton, MI is not as easy as just looking at homes for sale. You need to have a decent budget, a variety of suitable options, and available spaces in places that fulfill your requirements. For professionals and students, it is important for them to stay relatively near their places of work or education. For parents with kids, it is essential to have safe neighborhoods that also have a good schooling system.
The biggest hurdle to getting your perfect new home is the budget; traditional stick-built houses and even apartments are now way out of reach for someone who wants to own their home (see apartments in Fenton, MI).
While renting is always an option in Fenton, MI, many folks want their own home in their name. Not only is this a good investment for their savings, but it prevents the losses one can incur from eviction or hiked-up rent demands.
On the other hand, buying a house is also risky. The mortgage payments can be backbreaking and you don't get much choice in where you are located.
Possible Solution to the Housing Crisis
If you are looking to avoid the issue that comes with renting or buying traditional homes, take a look at mobile or manufactured homes for sale. There is Cider Mill Crossings and several other choices to consider in Fenton, MI.
One of the best options out there is the Tyrone Woods Manufactured Home Community. Here, you can easily find double-wide mobile homes for sale in Fenton, MI. If you are still not convinced about a manufactured home, check out these pros and cons of a double-wide mobile home.
Used Double-Wide Mobile Homes for Sale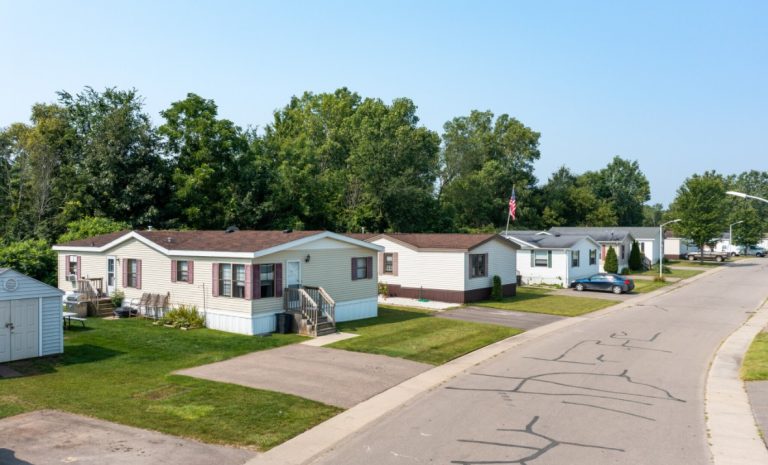 Are you looking for manufactured homes for sale? Do you want a larger place than your current mobile home? For some, downsizing to a mobile home might be the right choice.
There are several choices to make when it comes to looking for mobile homes or the right manufactured home community. Within the state of Michigan, you might find many mobile homes for sale. Cider Mill Crossings and Clark Modular Homes might be places to consider before settling down. However, their location, size, or neighborhood might not always be up to your standards.
To be assured of getting the most suitable choices, make sure to go with only the top double-wide mobile home dealers in Michigan. If you are in Fenton, MI, though, we highly recommend Tyrone Woods Manufactured Home Community above all. Let's now have a look at this particular manufactured home community and see why it is such a great option:
Location
The exact location of the Tyrone Woods Manufactured Home Community is 8378 Hogan Rd, Fenton, MI 48430. Cider Mill Crossings is also in the same zip code, however we firmly believe that Tyrone Woods surpasses options like Cider Mill Crossings in every way.
Top Reasons to Choose Tyrone Woods Manufactured Home Community
When you are looking at manufactured homes or mobile homes for sale, you do not want to compromise on anything. While a manufactured home may be much more cost-effective than a stick-built structure (mobile home vs. stick-built), it is still quite a major investment. In an ideal situation, your new home should have the perfect location, friendly neighbors, privacy, and a whole lot more.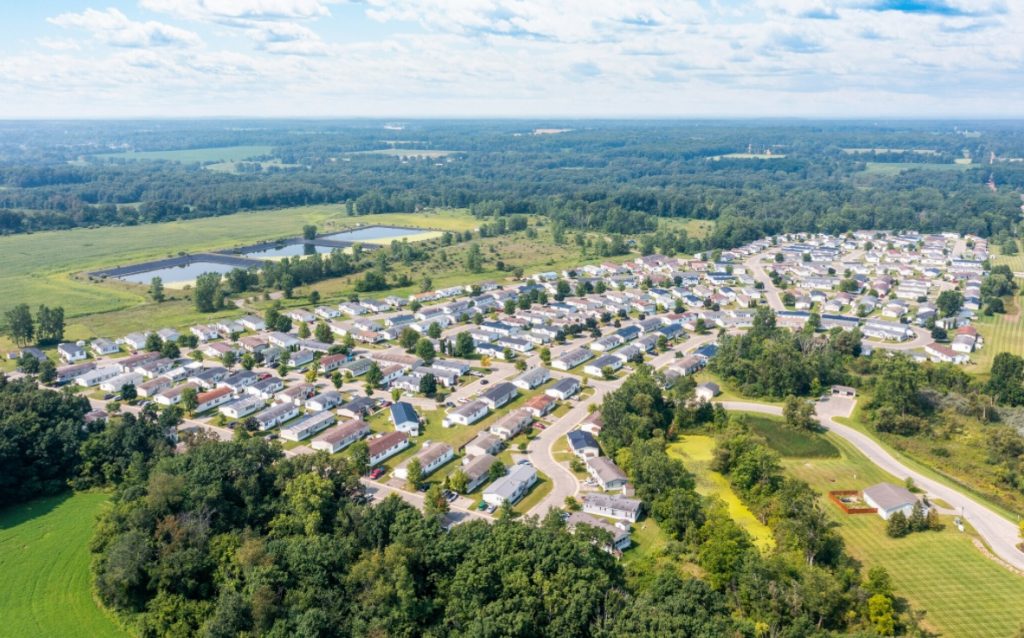 At Tyrone Woods Manufactured Home Community, we strive to offer everything you can dream of in a new home in Fenton, MI. There are a lot of things you should know about living in a double-wide mobile home. So, feel free to ask away! Just remember, the perks of getting one of our mobile homes for sale include the following:
1. Affordable Sale and Rent Prices
Our Fenton, MI mobile homes are available for both sale and rent at affordable, reasonable rates. You might be on a budget and not expect to get anything except the bare minimum considering the price of housing these days. Compare our prices with that of similar communities, such as Little Valley Homes or Cider Mill Crossings, and you will see the difference in both prices and value.
Down payments
The down payments here can be quite low. Talk to our management and you might be surprised at how quick you can acquire your home here in Fenton, MI.
Comparing Houses and Double-Wide Homes
Of course, the comparison between our mobile homes and traditional homes is even more glaring. To help you out, here is a discussion of which is better: houses or mobile homes for sale?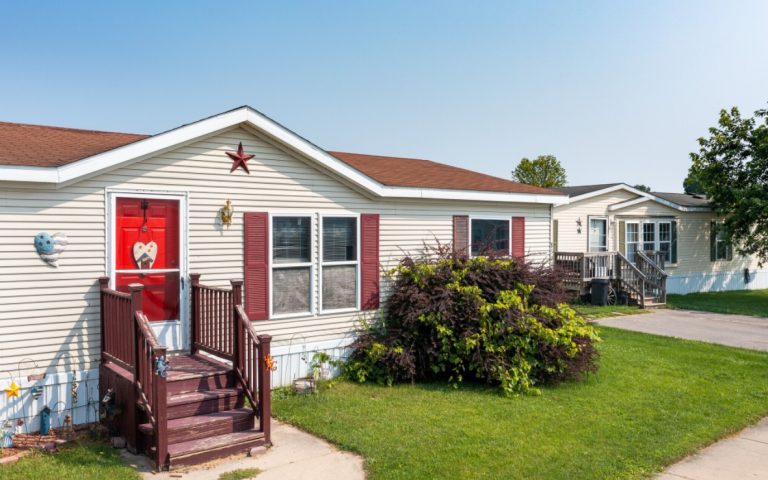 2. A Pet-Friendly Policy
We understand that a new home won't be a home if your furry or feathered family is not included. This is why we have a generous mobile home community pet policy for our Fenton, MI community. There are a few limitations, restrictions, and nominal fees to consider, but the policy is overall a welcoming one for all ages in Fenton, MI.
3. Awesome Amenities
The amenities available at Tyrone Woods are second to none. They are comparable to those at places like Cider Mill Crossings, Little Valley, Fenton Lake Estates, and other communities in Fenton, MI.
Not only will you have a beautiful new home in Fenton, MI, but you can also have a comfortable lifestyle with the many amenities available (learn what is included when buying a new manufactured home here). There is central heating and cooling here for each unit, and they include sheds. The manufactured home sheds themselves provide a decent bit of extra storage space.
One More Perk
Another perk of getting a new home in this Fenton, MI community is that you can get your own 2-car parking pad. The water filtration system is quite new too. It serves the whole community with an aim to foster better health.
4. Strategic Location
The location of Tyrone Woods in Fenton, MI is about an hour's drive from Detroit, while Flint and Ann Arbor are just half an hour away. When Fenton, MI, gets to be a little quiet, it is relatively easy to hop in your car or catch a bus to the nearest happening city spot. There are also paved roads leading to the community. Downtown Fenton, MI is also within a very short distance.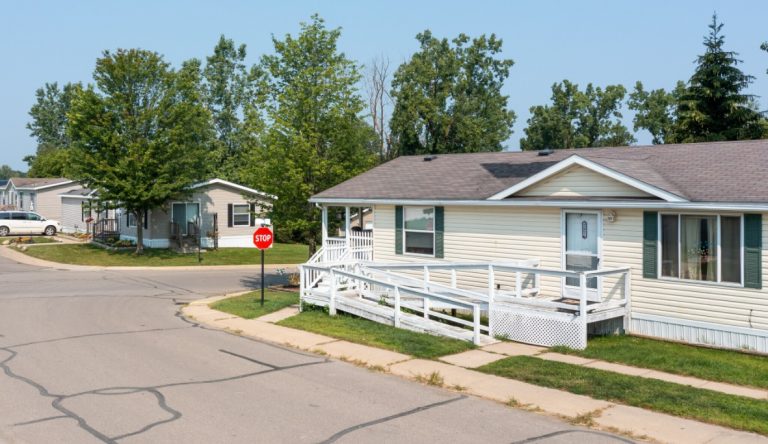 5. Nearby Shopping Centers
When you are in Fenton, MI and in a good location, this place can give you the best shopping spree. There are no less than three top shopping areas in Fenton, MI, and they are all near the Tyrone Woods community. These are North LeRoy, Silver Parkway, and Dibbleville (see Downtown Fenton, MI Shops). There is something to suit every shopper's taste, so don't think that Fenton, MI is a boring place. There are clothes shops, spas, florists, bookshops, and thrift stores all within easy reach.
How are We Different from Other Manufactured Home Communities in Fenton, MI?
Fenton, MI is no stranger to people living in mobile homes, manufactured homes, and other alternative forms of housing. In addition to Tyrone Woods, there are also the Fenton Oaks, Lake Fenton Estates, and Cider Mill Crossings communities to consider in Fenton, MI. Here is a quick glance at why one should consider the manufactured homes at Tyrone Woods in Fenton, MI before any other:
This is among the top few manufactured home communities that provide new models of mobile homes for sale in Fenton, MI
We have a large variety of sizes in our mobile homes, going all the way up to 2,200 square feet (as compared to the majority of Michigan mobile homes, which are just 1,000 square feet or less)
None of the mobile homes for sale here in Fenton, MI are less than 1,500 square feet
Each unit in this Fenton, MI community has at least 3-bedrooms and 2-bathrooms each (the only other community comparable in this area is Cedar Mill Crossings)
The management at the community makes sure everyone is as comfortable as possible; as a result, all the Fenton, MI mobile homes have vinyl siding for aesthetic and waterproof purposes
There is also focus on making these Fenton, MI homes better for health than in places like Lake Fenton or Cider Mill Crossings; to this end, there is a new water filtration system available for the whole community
We also care about the cooling system in your new home. So, there is central air conditioning in most manufactured home in the community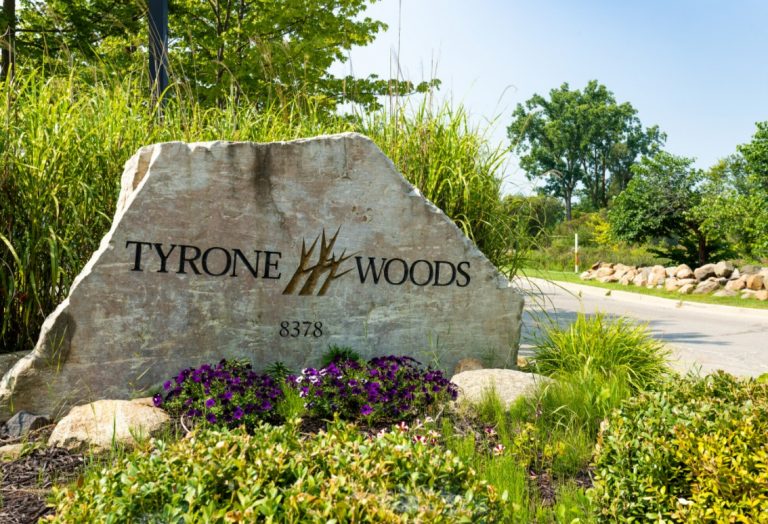 The Takeaway
When you are looking for a nice new home in Fenton, MI, Tyrone Woods is happy to be of service. Whether you do not live in Fenton, MI yet or want to move from the nearby Cider Mill Crossings community (see Cider Mill Crossings vs. Tyrone Woods Manufactured Home Community), Tyrone Woods can fulfill all your housing requirements. We will welcome your pets, your family, and your future dreams with open arms. So, reach out today and book a tour!