Mobile homes, now more commonly referred to as manufactured homes, offer affordable housing in areas with otherwise expensive housing options.
What is manufactured housing you ask? Manufactured homes refer to homes built off-site at a lower price than traditional houses. Manufactured homes offer mobile home floor plans, but they can also resemble traditional homes.
Most people buy manufactured homes instead of renting, meaning the owner owns the property after they pay off the cost of the home. Buying a manufactured home resembles buying a traditional home in many ways; but there are some special considerations and challenges that come with the sale of a manufactured home. Learn more here in our guide on how to buy a manufactured home:
Introduction
A manufactured home is a home that is built in a factory and then transported to the designated location. It does not contain a permanent foundation. A permanent foundation must be installed on-site before the transport of the manufactured home, if it is to be used.
Manufactured homes typically use lighter (and less expensive) building materials in the home construction process, making them easier to move. It is also cheaper for companies to mass produce them in a factory. For these reasons, most manufactured homes cost 10%-35% less per square foot than site-built homes.
Manufactured homes must adhere to U.S. Department of Housing and Urban Development (HUD Code) regulations regarding construction. The building codes for manufactured homes are slightly different than those for traditional homes or site-built homes.
You can buy your manufactured home through a real estate agent, a manufactured home retailer, a manufactured home builder, a manufactured home community, or a private seller. Checkout the top mobile home dealers in Michigan here.
It is important to note that the home does not come with the property. You will need to buy land yourself or rent land from a manufactured home park.
Different Types of Manufactured Homes
Manufactured homes cover most alternatives to site-built homes; but is a manufactured home a mobile home?
While sometimes used interchangeably in error, a manufactured home is not necessarily a mobile home. The term "mobile home" refers to manufactured homes built before June 15, 1976. Mobile homes did not hold up as well back then as they do now, so mobile homes did not get the best reputation in the 60s and 70s. Hence, the introduction of the Manufactured Housing Institute, HUD Code, and the change in name from "mobile homes" to "manufactured homes."
A "modular home" is a home made off-site in different pieces than assembled on-site. Unlike mobile homes, modular homes are made to be installed on a permanent foundation, and modular homes adhere to traditional building codes instead of the HUD Code for manufactured homes.
There are two main types of manufactured homes: a single-wide manufactured home or a double-wide manufactured home. As the names suggest, the single-wide is thinner (15 ft. wide on average) than the double-wide options (25 ft. wide on average). Double-wide manufactured homes offer significantly more space, however they are also more expensive and more difficult to move. Learn more about the pros and cons of a double-wide here.
Pros and Cons of Manufactured Homes
Manufactured homes come with a lot of advantages. Namely, they are cheaper than most traditional homes (see mobile home vs. stick-built). They also typically offer high energy-efficiency, keeping utility bills low. Owners also have the opportunity to move them more easily, although they typically stay in one place. Manufactured home construction is quick, and the homes take up little space, making them ideal in areas with high urban development.
With that said, manufactured homes also deteriorate more quickly (see how long do manufactured homes last to learn more). The inexpensive materials can not hold up to the elements as well. Furthermore, if the manufactured home does not qualify for a traditional mortgage, owners may end up paying higher interest rates. Finally, some people think manufactured homes come with a negative stigma.
Manufactured homes are a great option for families on a budget. While the home may not survive more than one or two generations, it is a cost-effective way to avoid paying rent in favor of home ownership.
How to Buy a Manufactured Home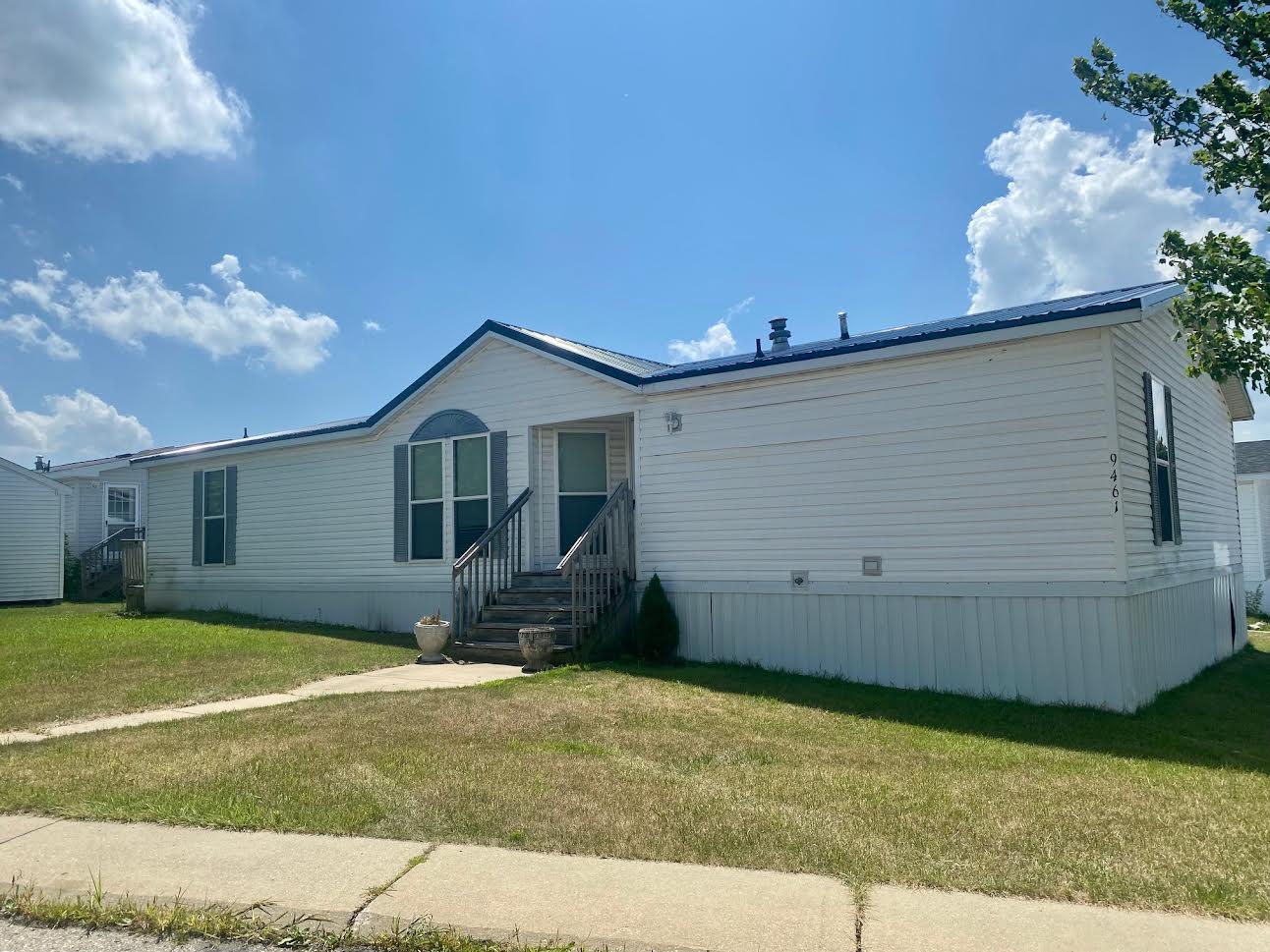 There are a couple of things you need to know before buying a manufactured home. We will take you through the process of buying a manufactured or modular home step-by-step:
Step One: Get Manufactured Home Financing in Order
The average single-wide manufactured home is $64,500. The average double-wide home is $120,300. However, you will also need to pay for the plot of land the manufactured home will sit on. In most cases, these are separate charges, so budget properly.
Since most people can not afford the total cost of the manufactured home upfront, they take out one of the available manufactured home financing options, including manufactured home loans.
There are two types of real property manufactured home loans that people can take out for a manufactured home that most closely resemble a traditional mortgage. These loans cover both the land and the manufactured home purchase (if applicable). They also cover modular homes, as would most traditional loans.
MH Advantage Program
AN MH Advantage Program manufactured home loan by Fannie Mae resembles a traditional mortgage. To qualify for the loan, the manufactured home in question must be installed on a permanent foundation and on a permanent chassis. Only manufactured homes and modular homes with the "MH Advantage" sticker qualify. The borrower only has to pay 3% down (i.e. $1,500 on a $50,000 home). The borrower will also need a minimum credit score of 620.
CHOICEHome Program
The CHOICEHome Program through Freddie Mac also offers a traditional mortgage for manufactured homes that are considered "real property." While similar to the MH Advantage plan, this manufactured home loan covers more properties. However, the borrower will need to pay 5% down (i.e. $2,500 on a $50,000 home) instead of 3% down.
There are also manufactured home loans available through the government:
USDA Loans
The United States Department of Agriculture offers loans to farmers who need modest shelter as they start their farming business. The home must be considered a "real property," and it must be located in a designated "rural" location. Furthermore, it must be the owner's primary residence.
VA Loans
VA loans help veterans secure financing for housing. These Veterans Affairs loans are designed specifically for Veterans as a thank you for their service. The qualifications tend to be more relaxed than most loans. Furthermore, the interest rates tend to be much more reasonable.
FHA Loans
The Federal Housing Administration offers homes on wheels that don't qualify as "real property" known as FHA loans.In this case, the loan is for "personal property" as opposed to real estate. While it covers many manufactured homes not covered under other options, the interest rates tend to be higher than normal.
Additional manufactured home loans available include:
Chattel Loans and Personal Loans
Chattel loans are similar to auto loans that use private property as collateral. Essentially, if the borrower defaults on the chattel loan, the lender can repossess the property. Since chattel loans are designed for mobile vehicles, it is one of the only loans that stay intact if you decide to move the manufactured home. Learn how much it costs to move a manufactured home here.
Chattel financing loans allow you to take out money for a number of reasons, meaning there are less regulations on what you do with the personal property you acquire with it. However, a personal loan or a chattel loan will have a higher interest rate.
Dealer or Owner Financing
In some cases, you can get financing through the dealer or the original owner of the home. Dealers tend to offer higher rates than most other options.
While you may find a great deal through a private seller, the situation leaves you open to the possibility of fraud. Always ensure the owner actually owns the property. Furthermore, you should get the agreement in writing. You can also get the loan insured in case of a disagreement or default by the seller.
Step Two: Ask Yourself Some Basic Questions
Before you start looking for a manufactured home, you should ask yourself some basic questions to help you determine how to start your search.
Do you want to buy new or used?
The life expectancy of a manufactured home is an average of 55 years, with the potential to last a lot longer if properly maintained. Many people prefer to buy a new manufactured home since they do not last especially long. You will also have the option to make decisions about the home.
On the other hand, a used manufactured home will cost significantly less. Plus, new manufactured home development takes time. You will also have to pay for the transport of the home to its final destination. Learn how to find used mobile homes for sale here.
Do you want to buy or rent a plot?
Many people associate manufactured homes with mobile home parks. However, 63% of new manufactured homes are actually delivered to private land. In the case of owning land, you only need to pay taxes each year after it's paid off.
You will pay dues at a mobile home park community for the entirety of your duration there, along with taxes on your mobile home. Lot rent works similarly to rent at an apartment. You will sign an agreement for a specified duration of time and pay monthly.
The average cost of lot rent around the country is $380 per month. However, nicer manufactured home communities will charge more. Plus, the manufactured home community may come with amenities not available at your private property, such as free trash pickup and a community pool.
Some of the most popular manufactured home parks in Michigan include:
South Lyon Woods
Highland Greens Estates
Troy Villa
Commerce Meadows
Clarkston Lakes
Rochester Estates
Do your research to determine the best manufactured home park for your needs. Do not forget to read reviews. Furthermore, if something sounds too good to be true, it probably is!
Step Three: Talk to a Manufactured Home Retailer
Once you clarify your basic needs, you can talk to a real estate agent or retailer who specializes in manufactured homes.
A realtor will be able to show you different homes that fit your unique needs. You will be able to tour the homes before you make a purchase.
If you do not find anything that fits your needs, the realtor can help you choose a plot while you wait for a new customized manufactured home to get made.
You may be able to talk to a manufactured home real estate expert at a manufactured home community as well. However, it is important to remember that they only work with properties in their park.
Step Four: Finalize the Sale
Once you find the perfect setup, you will get to finalize the sale of your new manufactured home. You will sign the purchase agreement and provide all the details regarding your financing.
Before you finalize the sale, you should perform a walkthrough with the assistance of a professional inspector. The inspector will ensure that the home is not only up to code, but as advertised. The inspector can also give you insight into any problems that may come your way in the next couple of years.
After you pass the inspection, you will put the down payment into escrow. This acts as a promise of your intent to pay for the property. You will then meet with the seller to sign the final paperwork. After you sign the final paperwork, the funds in escrow go to the seller, and the keys go to the buyer.
Congratulations! You have finalized the process of buying a manufactured home!
Step Five: Hook Up Utilities
You will need to hook up the utilities to your new home. In some cases, you will get garbage or certain utilities as part of rent at the manufactured home park. Always know what to expect before you agree to live at a certain location.
Utilities typically include water, gas, and electricity. To simplify things and stay as energy-efficient as possible, stick to all electric appliances and avoid the gas hookup and gas bill altogether.
Plumbing for mobile homes is unique compared to traditional real estate. Most manufactured homes use a septic system instead of connecting to the city's water waste treatment program. The septic system may already be in place in a mobile home park, or you may have to install a new one.
You will also need to hook up cable and internet. Some communities will provide internet for free in common areas if you don't need the internet more than a couple of times a week.
Step Six: Buy Insurance
You will own your manufactured home once you finish making payments, unless of course you pay cash for it. You will not have to make payments on the home anymore, but you will have to cover expenses for repairs, even in the case of an accident.
Even if you live in a manufactured home community, the rent will not cover repairs to your home in most cases. That is why you will need insurance. In fact, you won't be able to get a traditional mortgage without insurance already in place.
Your insurance will cover your home for up to a certain amount under specific circumstances.
Since manufactured homes tend to find themselves more vulnerable to damage than traditional homes, insurance may be limited. Clarify the details of the agreement before you sign on the dotted line and make sure you know about wind zones for manufactured homes.
When you shop around for homeowner's insurance, consider bundling with your auto insurance. Also, compare value over price. The cheapest plan may not necessarily be the best plan. If you need assistance with this, you can always get quotes from Assurance IQ.
Buying a Manufactured Home at Tyrone Woods Manufactured Home Community
Tyrone Woods Manufactured Home Community offers affordable mobile homes for sale in Fenton, MI in a prime location for anyone who wants to enjoy the natural beauty that Southern Michigan has to offer.
We can help you find your dream modular or manufactured home in Fenton, MI!
Perfect for golf enthusiasts, Fenton, MI has numerous golf courses to enjoy. It is also a pet-friendly community. Do not forget to visit the local farmer's market to get fresh cherries and apples, along with other produce.
Parents will love that the local Linden Community Schools has 96% of students being college-bound.
Ready to learn more about manufactured homes and the process of buying a manufactured home? Schedule an appointment at Tyrone Woods today!