With the uptick in prices of traditional housing these days, many more people are now considering manufactured homes as their next major investment. At Tyrone Woods Manufactured Home Community, we are proud to have some of the best pre-owned manufactured homes for sale at the most reasonable prices in the state.
Pre-Owned Manufactured Homes for Sale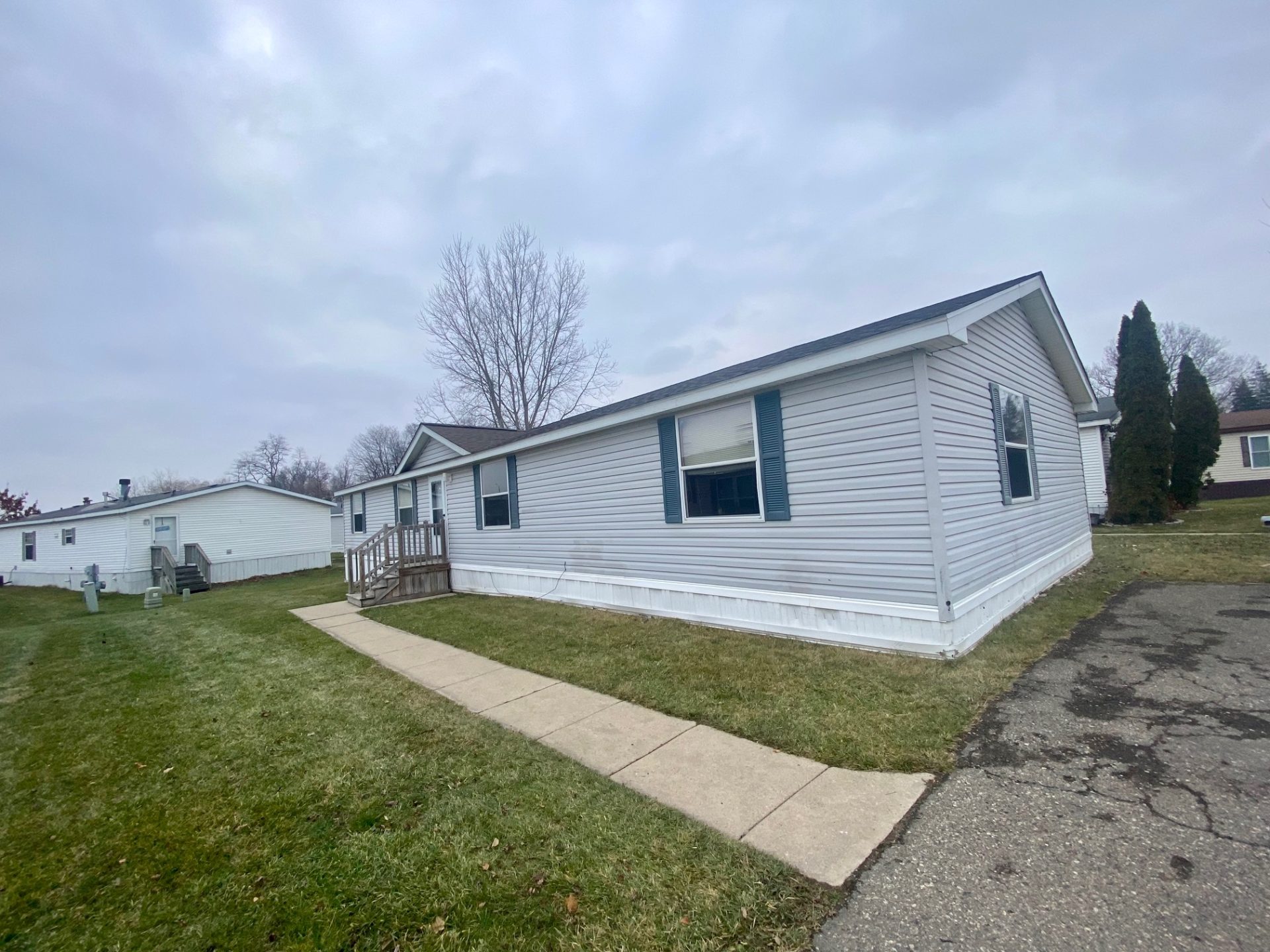 Our Michigan manufactured homes are modern, updated, and suitable for all kinds of lifestyles. Whether you are a single individual, a couple, a retiree, or a family, our manufactured homes have the most relevant floor plans available! Explore our catalog now for luxury manufactured homes, pre-owned homes, and customized homes with all the required amenities on hand.
Why Choose Tyrone Woods Manufactured Home Community?
At Tyrone Woods, we make sure that all our manufactured homes for sale in Fenton, MI fulfill the strict standard for mobile homes. When you choose a community, you are choosing the best floor plans, home designs, builders, and top quality materials. We also ensure that our manufactured homes are as comfortable, private, and hassle-free as possible.
Buying Pre-Owned Manufactured Homes in Michigan
A lot of people are moving to the state of Michigan as we speak. With increasing job opportunities, beautiful natural surroundings, and an amazing education system, it is no surprise that there are so many folks wanting to settle down here.
Not everyone can afford to buy a house or commit to spending a large portion of their money on rent each month. This is where the manufactured housing industry comes in. With reasonable prices and upgraded models that provide an experience similar to that of traditional housing, manufactured homes are an increasingly popular choice for Michigan residents.
Educated and Aware Homebuyers
Today, we can see that homebuyers are progressing and moving forward in their thinking. They are not always bent on the idea of having things the way they have always been. Even if you have grown up in a traditional house all your life, a manufactured home can work just as well (see: mobile home vs. stick-built).
A More Affordable Choice
At Tyrone Woods Manufactured Home Community, you can find high-quality manufactured homes that won't completely drain your bank account. If you go for a regular traditional home, chances are that you would be making the mortgage payments for a long time to come.
On the other hand, many manufactured home owners might manage to buy their homes in one go or just a few installments. If the structures were pre-owned, that brings their estimated price down even further. Before committing to anything, you can also look up everything you need to know about buying a manufactured home.
Buying Pre-Owned Manufactured Homes in Tyrone Woods Manufactured Home Community
If you are looking for a forever home or somewhere to settle down for the next chapter of your life, Tyrone Woods could be the answer!
In Tyrone Woods Manufactured Home Community, you will find a community-driven business that is committed to providing affordable, quality, and modern housing in Fenton, Michigan. Our fairly-priced double-wide mobile homes are now up for sale, with various floor plans up to 2,200 square feet.
High Rankings
Tyrone Woods Manufactured Home Community is located in Livingston County, and is rated among the best mobile home communities here. In fact, we are also in the topmost rankings for manufactured home communities in Michigan. Our community is suitable for people of all ages. We also welcome pets in our friendly community – here is our mobile home community pet policy!
The Best Location
One of the reasons why Tyrone Woods is such an awesome community is its location. We are just half an hour away from places such as Ann Arbor and Flint, with Lansing and Detroit being an hour away. Downtown Fenton is a few minutes' away, too, so our residents are able to access many exciting events and gatherings!
There are also several shopping centers, restaurants, and other entertainment venues within our Fenton community. It should not be an issue to access the essentials for a comfortable life. For more shopping opportunities and exploration, Ann Arbor and around the Cider Mill Crossings community are your best options.
Different Options and Ranges
At Tyrone Woods Manufactured Home Community, we want to provide manufactured homes within a wide range of features and prices. Our aim is to get every resident just the right home features they require within a reasonable budget. This way, we can help you get the lifestyle you want.
Wondering what exactly to expect? Read up on what you need to know about living in a manufactured home park.
Why Invest in a Michigan Mobile Manufactured Home?
When you invest in a manufactured home within our Tyrone Woods Manufactured Home Community, you are taking a wise step. This ensures an open living space with extra amenities and a large lot size to enjoy. Here are just a few more reasons why you should come over and check out our housing options for your next home:
Affordability
Our price range starts at around $30,000 and goes all the way up to $50,000. The prices may also vary according to season. So, do follow up on what is the best time to buy a manufactured home.
These prices are definitely much lower than that of a regular traditional house in Michigan. Even if you rent an apartment, the monthly payments add up. Instead of these two options, why not make the most of your money and invest in a home you can own outright? Check out our pre-owned double-wide homes today and experience the bargains for yourself!
A Premium Space
Even at our lowest prices, you get a premium space in our Tyrone Woods Manufactured Home Community.  There are at least 3 bedrooms and 2 bathrooms in each double-wide manufactured home, all on excellent real estate within a beautiful neighborhood.
Quality Materials
All our new and pre-owned manufactured homes have vinyl siding complete with attractive pitched roofs. This ensures that each unit is fully weatherproof and also nice to look at from the outside.
Fully-Equipped Homes
Each manufactured home also has a master bedroom suite, full baths, and usually an extra family room. This is more than any other mobile home community offers, whether you look in Ann Arbor or even Cider Mill Crossings.
Works with A Lot of Budgets
When we say we offer prime real estate at the best prices, we mean it. Our range covers several types of budgets, but our homes aren't dirt cheap either. Call us up today and talk about your budget; chances are that we can help you get that dream home sooner than anyone else!
Down Payments
Our required minimum down payments can be as low as 5% of the purchase price. This could make the payment around $3,000, which is a bargain for a mobile home in Michigan.
Great Amenities
Most of our manufactured homes have features like stone fireplaces and hardwood flooring. The kitchens have oak finishings and enough space for comfortable movement. With our full bath and master bedroom suites, it can be hard to believe the reasonable prices!
For maintaining all this, you might want to read up on some extremely helpful manufactured home tips.
Along with space, we also guarantee that each of our mobile homes is luxurious and modern. We have renovated the layouts, with central air conditioning units and much more.
Making it Affordable
The people at Tyrone Woods Manufactured Home Community are committed to helping you become a mobile home owner in Fenton, Michigan. To this end, we have connected with several top financial advisors and other groups in the nation. With their help, we hope to assist in achieving your dream of homeownership soon.
Helping Out with Financial Issues
Is your credit score on the lower end? This should not be a problem! Our partners have solved many such issues for our current residents, and they're ready to help again at a moment's notice.
No matter what your credit score or income levels are, Tyrone Woods can work out the best ways to make sure you are able to afford living in Michigan. You can also conduct your own research, starting by finding out how much manufactured homes are in your desired area.
Can You Save Money as a Homeowner?
At Tyrone Woods, we also want to see homeowners saving as much money as possible. This is why we have ensured that a manufactured home is available in the size you want. Overall, buying one of our units outright is also cheaper than most leasing options. The overall savings could be from $200 to $300 each month!
Rent-To-Own
Tyrone Woods provides the options of rent-to-own mobile homes in Michigan. When you lease manufactured homes from us, you also earn some monthly credits that can contribute to a down payment for future purchase.
The Takeaway
Overall, you can be rest assured that purchasing a Tyrone Woods manufactured home unit will be a logical investment. Along with all the quality features of the units themselves, our residents also appreciate the wide-spaced plots, generous amenities, and other benefits. All of this is on our manicured grounds, which give a real feeling of luxurious living.
Are you ready to purchase your ultimate dream home? Call us up and book a tour today!